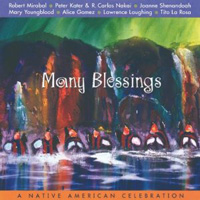 Various Artists
Many Blessings (Silver Wave Records SD 940, 2004)
Native American fusion music can be a dicey thing. Some of it winds up so sweetened and devoid of edge that appropriation by the new age movement is a given. This solid and diverse collection from Silver Wave keeps mush at bay and presents some of the label's finest artists doing what they do best- putting
Native sounds and spirit into musical contexts that allow them to stay rooted while showing their adaptability.
Mary Youngblood Mary Youngblood's opening "Passions to Ignite" blends tumbling zither, dulcimer, kora and percussion with stark scatting and suitably tart flute from Jethro Tull's Ian Anderson, typical of the unpretentiously successful mixing of Native and other strains that the entire disc upholds.
Meditative pieces by Peter Kater and R. Carlos Nakai include potentially bothersome synthesizers and programmingn that more organic elements (including the instrumental skills of such notables as Paul McCandless and Tony Levin) manage to overcome, complimenting further strong tracks from Youngblood, Robert Mirabal, Joanne Shenandoah, Alice Gomez, Lawrence Laughing, and Tito LaRosa.
Variety carries the day as Mirabal laces his contributions with poetic defiance, the heartbeat intimacy of Gomez, Laughing and LaRosa is fueled by drumbeats and winds, and Shenandoah's parable-like ballads radiate warmth.
I first listened to this CD while tending to some dreary household chores; the second time I was driving along a winding mountain road. The music was quite enjoyable in both instances, revealing nuances (subtle background sounds, varied percussion textures, hints of classical music and rock n' roll) that boost the Native American undercurrent and show some of the many ways it can be put to good use musically. A very good selection, displaying the sort of strengths a label sampler should.
Buy Many Blessings
Author:
Tom Orr
Tom Orr is a California-based writer whose talent and mental stability are of an equally questionable nature. His hobbies include ignoring trends, striking dramatic poses in front of his ever-tolerant wife and watching helplessly as his kids surpass him in all desirable traits.