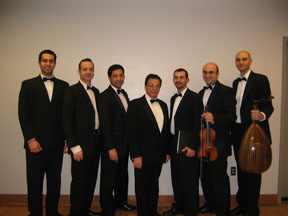 Chicago, USA – Xauen Music of Chicago has announced that it will be producing a nationwide Andalusian concert tour. Three major Middle Eastern music ensembles– the Chicago Classical Oriental Ensemble, led by Hicham Chami; Yoel Ben-Simhon's Sultana Ensemble; and the Anda-El, East-West Orchestra–will merge for a U.S. tour, under the artistic direction of Dr. Avi Eilam-Amzallag. The 20-member combined orchestra will be joined by two celebrated and internationally-acclaimed vocalists: Munshid Abdelfattah Bennis and Soloist Lior El Malich.< The Classical Oriental Ensemble of Chicago consists of professional musicians from eight different countries (the U.S., Morocco, Egypt, India, Israel, Palestine, Syria, and France). The ensemble performs North African, Middle Eastern, Turkish, and Armenian music, and focuses on instrumental pieces. The Anda-El, East-West Orchestra is an unequaled phenomenon in the field of classical music in the world. The orchestra's unique repertoire fuses the ancient heritage of authentic Andalusian music with contemporary instruments played by musicians trained in Western classical music. Also featured in the program is the acclaimed Sultana Ensemble with artistic director Yoel Ben-Simhon, which creates an innovative and rich sound that interweaves East and West.
Based in Chicago, Illinois, Xauen Music, Inc. is dedicated to preserving the
heritage of classical Oriental music from the Arabic, Turkish, Armenian, and
Sephardic traditions through sponsoring musical performances, producing scores
and recordings, publishing a magazine, and organizing educational workshops and
intercultural exchange throughout the U.S.
Other cooperating organizations are the City of Chicago; Genesis at the Crossroads; Middle East Institute; Israel Office of Cultural Affairs; Sultana Music; Eretz-Siamak Cultural Center; and the Center for Jewish Culture & Creativity.
Concert venues are:
Sunday, August 29, 4:00 p.m.
"From the Middle-East to the Midwest"
Block 37 (State St. at Randolph St.) Chicago, IL
Monday, August 30, 8:00 p.m.
People's Congregational United Church of Christ
4704 13th St. NW
Washington, D.C.
Tuesday, August 31, 8:00 p.m.
Peter Norton Symphony Space
2537 Broadway at 95th St.
New York, NY
Thursday, September 2, 8:00 p.m.
Eretz-Siamak Cultural Center
6170 Wilbur Ave.
Tarzana, CA (L.A area)
For information on the Andalusian concert series, please contact the CCOE at
312-927-2746 or Xauen Music at 847-830-8277. Xauen's toll-free number is
1-888-MY-XAUEN (1-888-699-2836).