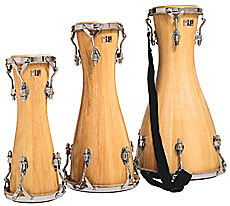 By Mark Corrales, LAFI
The clave beat, which lies at the heart of not only Latin music but also so much popular music around the world today, was brought in various forms from West Africa, including the area known as Nigeria, preserving an ancient musical foundation.  Clave is also fundamental to one of the best-preserved, ancient musical genres of Africa – that of the batá drums.
What are the batá drums and what is the story behind them?The batá drums and their music have survived for over 500 years, traveling from the land of the Yorùbá in Nigeria to Cuba to the United States and beyond.  Their story is a testament to the power and depth of the religion and culture of which they are an important part.  To tell the story of the batá drums we need to talk about religion and culture because the batá are not merely a musical instrument, and what they play is not simply music in the popular Western sense.
Knowledge of the drums came from Yorubaland to Cuba in the 1800s with the slave trade.  The Yorúba people were one of the two major ethnic groups brought to Cuba from Africa (Bantú were the other).  Mainly from what is now southwestern Nigeria, 275,000 Yorùbá were brought to Cuba, mostly during 1820-1860s.  The Yorùbá brought religious practices that evolved into the religion called Santería or Regla de Ocha in Cuba.  Around 1830, the first batá with añá (sacred batá) were created in Cuba.  By 1951, there were about 15 to 25 sets.
Santería, or Regla de Ocha, is a broad group of religious and spiritual practices developed in Cuba based mostly on Yorùbá traditional religions, but with influences from other African ethnic groups, including the Bantú-speaking groups of the Congo region and even European spiritism to some extent.
Batá drumming is an important part of this religious practice, which has made its way from Cuba to the United States, especially Miami, New York, L.A. and San Francisco.  The religion recognizes a creator god, along with a number of deities that represent various forces of nature (like lightning) or principles (such as war or love).  These deities, including Elegguá, Ogún, Shangó, Yemayá, and others, are called orishas.
The batá drums can speak.  Not in a metaphorical sense, but they really can be used to speak the Yorùbá language , and have been used traditionally to recite prayers, religious poetry, greeting, announcements, praises for leaders, and even jokes or teasing.  The Yorùbá language, the mother tongue of over 10 million people, is a tonal language, like Chinese and many African languages.  Yorùbá speakers use three basic tones, or pitches, and glides between them, as an essential part of how words are pronounced.  This is how the hourglass-shaped "talking drums" (called dundun in Yorùbá) are able to speak Yorùbá praises and sayings.  This is also how batá and other drums can talk.
Batá drums were played in public outside of Africa for the first time in Cuba in 1935-36.  Fernando Ortiz organized performances of batá as folkloric music performances for the public, whereas, previously, Cubans had played them only in private ceremonies.
The Drums
Batá drums are a family of three double-headed tapered cylinders, with a slight hourglass shape.  With varying sized that produce differences in pitch, they are named according to size: iyá, the larger drum, considered the mother; itótele, the medium size drum, and okónkolo, the smaller or baby drum.  They are carved out of solid wood, not built from staves.  The drums in Cuba are made of cedar wood, or sometimes mahogany.  The skins are male goat or deer. The small head is called the chacha and the large is the enu, or mouth.  A wax-like substance called ida, or fardela, is used on the larger heads of the iyá and itótele, changing the tonality to produce a duller sound.
There are usually two belts around the iyá, near the heads, with bells attached to them.  These are called chaguoro.  The drums have embroidered skirts or aprons and decorated strips of cloth as well.
Used almost entirely for religious or semi-religious events in Yorubaland, in Nigeria and Benin, batá drums have developed both a sacred and secular identity in Cuba and the U.S.  In Nigeria, the batá are used for worship of Shangó, the deified historical leader of Oyo and God of Thunder and Lightning, producing what believers consider celestial music. They are also used for ancestor (egungun) worship with masked dancers called agbegijo, who portray humorous and modern as well as serious and ancient characters.
In Cuba, sacred batá are used in all ceremonies related to orishas and other religious ceremonies, and receive the name of batá de fundamento.  Sacred batá drums in Yorùbá and Cuban culture have religious rituals surrounding their construction who can touch them, how to prepare to play them, and how to care for them. These cared batá are treated as living creatures with names, care, and feeling, with various rules for their use. An uninitiated person may not touch them and they may not touch the ground.
The spiritual force and mystery placed within the drum when it is made sacred, or consecrated, is called añá or ayán.  Añá is also referred to an orisha, or deity.  A drummer may be initiated into añá through certain religious ritual practiced mostly in Cuba (and Nigeria), and receives the spiritual force needed to play the drums correctly to bring the orishas down to a ceremony to possess the devotees.
In very recent years, in Cuba and the U.S., some have started to build and play batá drums that are not sacred.  Drums are now played in some secular contexts by people not involved in the religion. This is a bit like the transitions of certain songs of prayer into commercialized gospel music. They are used for parties, music and folkloric performances, and commercial recordings.  These secular batá drums are called aberínkula, or profane Batá drums, and may be used by an uninitiated person.  Some are mass-produced by companies like Latin Percussion, Toca, and others.
Several great batá masters from Cuba have moved to the United States in the past 20 years, particularly Franciso Aguabella, as did Julio Collazo in the 1950s.  According to John Mason, the first bembé to be held in the United States took place in 1961 in the Bronx, New York and Julito Collazo played iyá.  Uninitiated batá were used.  The first batá constructed from solid wood in the U.S. were made in 1963.  In 1976, the first drum with añá was brought to the U.S. from Cuba.  By the early 1970s there were a few batá groups performing in the NY area, and in 1980 Cuban master
Orlando "Puntilla" Rios  came to the United States.
Other batá masters have visited in recent years, performing and teaching.  There are now dozens, perhaps up to a 100, serious batá teachers in the United States, many of who are fully recognized master with sacred drums. With so many teachers, recording, and performances, interest in the batá drums has greatly increased, and will continue to grow. It is important that the core of this sacred drums' tradition be respected and preserved, however, and that it not be diluted by the widespread popular interest that is drawn to the power and mystery of the batá.
Today, many people have heard the sounds of the batá drums and perhaps not known it – the batá are now being used in commercial recordings of popular music, not just folkloric recordings.  These double-headed drums are heard frequently in CDs of Latin popular music, to a great extent in jazz and Latin jazz, and often in an introduction to or break in a salsa tune.  A quick search of the excellent Descarga catalog turns up more than 50 Latin CDs with batá on them. One excellent folkloric CD is Ilú Añá.  Today, they are even used in other popular music, from Micky Hart's Planet Drum group to Laurie Anderson's album Mister Heartbreak.
Batá Groups
Havana Select, a folk ensemble founded in 1985 and directed by percussionist Steve Bloom, offer concert programs of traditional Afro-Cuban music and dance.  Havana Select has performed at many festivals and concert halls, featuring rumba songs and dances as well as traditional arrangements from ancient Yorùbá guiro and batá drumming.  Havana Select has performed at multiple venues such as at Smithsonian Institution theaters, notably a performance residency at the American Sampler Series in October 1995 and the Smithsonian's 150th Anniversary Concerts.  Additionally, the group has been featured at the Kennedy Center's Millennium Stage, and offers annual main stage performances at Dance Place in Washington DC. Contact Havana Select at (301) 962-7094 or by email at steve-bloom@juno.com.
Raíces Habaneras is an Afro-Cuban folk ensemble based in New Jersey, reuniting some of the most talented Afro-Cuban drummers, singers and dancers in the New York metropolitan area.  Formed in 1995 and directed by Cuban singer David Oquendo, the group aims at rescuing and preserving the traditional and original forms of Afro-Cuban rhythms.  Since its creation, the group has been performing every Sunday in what is it's base, La Esquina Habanera restaurant in Union City, New Jersey, featuring a weekly performance that has become a tradition known as "Domingos de Rumba."  Composed of most Cuban performers, Raíces Habaneras has done numerous workshops at multiple universities in the East Coast, and they have been featured in HBO's "OZ" series, WXTV's "Sábado al Mediodía," as well as guest artist at multiple radio and concert stages in New York's Town Hall, Union City's Park Theater and in Atlantic City and New Jersey.  For more information, call (301) 641-4649.
Cambio Libre, an all-woman Afro-Cuban ensemble with members from New York City and Philadelphia, is dedicated to the study and performance of Afro-Cuban and other diaspora styles of music and dance.  The group's drummers debuted in May 1997 when they performed the Oru Seco at their teacher's wedding in New York City.  One of the few woman batá groups in the U.S., Cambio Libre focuses on the study of Afro-Cuban culture, specially its influence in the U.S. Cambio Libre has performed and lectured at different festivals (Women's Drumming Festival in Albany, NY), theaters, colleges, and universities (Hampshire College, Trinity College, Wesleyan University, Yale University, Temple University, University of Pennsylvania) throughout the Northeast since 1996.  One of their last performances featured the late Cuban folk singer Amelia Pedroso.  For more information, contact Elizabeth Sayre at (215) 724-3628 or by email at esayre@mindspring.com.
This article was originally published in the LAFI magazine and is reproduced in its integrity courtesy of LAFI, the Latin American Folk Institute.
Author:
Angel Romero
Angel Romero y Ruiz has been writing about world music music for many years. He founded the websites worldmusiccentral.org and musicasdelmundo.com. Angel produced several TV specials for Metropolis (TVE) and co-produced "Musica NA", a music show for Televisión Española (TVE) in Spain that featured an eclectic mix of world music, fusion, electronica, new age and contemporary classical music. Angel also produced and remastered world music albums, compilations and boxed sets for Alula Records, Ellipsis Arts, Music of the World.