Various Artists – Brizzi Do Brazil (Amiata Records ARNR
0304, 2004)
Various Artists – The Rough Guide to Brazil: Bahia (World Music Network RGNET 1135 CD, 2004)
Creative give-and-take is integral to the music of Brazil. The elements that make Brazilian music what it is also make it rife for some inspired dabbling. One of these releases shows just how much reach Brazilian sounds have these days; the other is a splendid slice of the region where the deepest roots of the music remain vibrant.
The name Aldo Brizzi previously rang no bells for me. It was not until I read the promotional materials for the wonderfully captivating CD bearing his name that I learned he is an esteemed Italian classical composer and conductor who spends much of his time in Salvador de Bahia, Brazil. Through a fortunate set of circumstances that I won't even try recounting here, he wound up collaborating musically, lyrically and in all respects passionately with some of his second home's greatest musical talents. How great are we talking? Well, how do the likes of Caetano Veloso, Gilberto Gil, Carlinhos Brown, Virginia Rodrigues and and Tom Ze sound?
On this disc, all of them and more sound great. Brizzi has a feel for moody, pensive arrangements that accommodate Brazilian elements remarkably well, including the African-rooted grooves, the poetic/prosaic lyrical and singing styles, the spirit that embraces both celebration and sadness and the rhythmic and melodic hooks that have made Brazil such an influence in music the world over.
Gil's opening "Meninas de Programa" unfolds with a cautious, almost ominous tone, a melancholy that recurs throughout the disc but lets up enough to let the sun shine in. A study in contrasts is largely present too, with Rodrigues displaying her usual high operatic tones as the lush valleys between volcanic peaks of drumming laid down by Olodum on "Velada ou Revelada," Brown weaving vocal and actual percussion through the reggae rhythm of "Toi" and Margareth Menezes and Arnaldo Atunes building "O Amor" into a heavenly spiral of samba syncopation, baritone voice and bass guitar.
Artists such as Ze and Portuguese band Ala Dos Namorados handle with finesse the more avant garde style pieces that first came about in Brazil in the '60s, just as Veloso, Teresa Salgueiro, also from Portugal, and others of their ilk likewise justify the more stately, articulate works. There are a few over-reaching electronica moments, but the great majority of this disc sounds like an idea brought smashingly to reality by Brizzi and denizens of a country he clearly holds dear.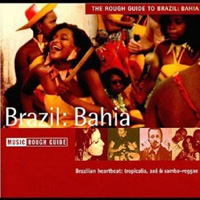 I know I've gushed plentifully about how great World Music Network's Rough Guides are, and I'm not about to stop. They've covered particular facets of Brazilian music previously, and their latest Brazilian
offering throws a spotlight on the unbeatable sounds of the state of Bahia. Whip out a globe or a world map and marvel at how the eastern jut of Brazil could fit into the nook of west Africa as perfectly as a puzzle piece. Then put on this CD and listen to the equally perfect musical connection.
African culture influences every aspect of Bahian life to some extent, and this is most resoundingly true of the music. Small ensembles carry the beat as surely as massive carnival percussion groups, and over the years some of Brazil's most popular musicians have emerged from Bahia or picked up the vibe of
the place. It was in fact Bahia's Afro-centric attitude that mainly fueled the Brazilian musical renaissance known as Tropicalia, though it's far more than that side of it offered on this disc.
Track after track you'll hear rich Afro-Brazilian rhythms mixing it up with funk, jazz, pop, reggae and, naturally, homegrown sounds like samba and forro. Some of the same artists from the Brizzi album are also on this one, along with further notables like Silvia Torres, Daniela Mercury, Edson Gomes and Banda Percucia. All are presented in peak form, making this a disc you really must get.
Author:
Tom Orr
Tom Orr is a California-based writer whose talent and mental stability are of an equally questionable nature. His hobbies include ignoring trends, striking dramatic poses in front of his ever-tolerant wife and watching helplessly as his kids surpass him in all desirable traits.