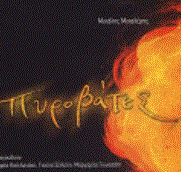 Pyrovates means firewalkers in Greek and is the title of a new world music CD. In Pyrovates (Melodiko Karavi music productions), Michalis Michaleris combines contemporary and traditional Greek music with modern music technology, introducing a balanced blend of sound.
Several traditional instruments are featured in Pyrovates (ud, saz, mandolin, jumbus, baglama, ruan, Greek flute, dauli, toubeleki, bendir, zilies) together with guitars, synths, loops and electronic percussions.The poems and lyrics are written by Giannis Kougioulis, Vasilis Vagenas, and Anacreon, a lyric poet who lived in 5th century BC (translated into modern Greek by Kostas Martinidis). The CD also includes instrumental pieces as well as covers of 3 Greek traditional songs.
Maria Katelanaki, Margarita Ginosati and Gioula Silleli are the voices in Pyrovates. They are highly trained performers. Margarita studied classical song, and Maria and Gioula studied Byzantine and Greek traditional music. They appear for the first time together in this CD. For more information, go to
www.pyrovates.gr.