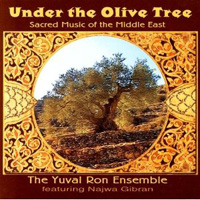 The Yuval Ron Ensemble featuring Najwa Gibran
Under the Olive Tree, Sacred Music of the Middle East (Magda MGD043, 2004)
The music of Under the Olive Tree on Magda Records crosses national boundaries, fuses Jewish prayers with Sufi songs and weaves Armenian influences together with other Middle Eastern traditions. The Yuval Ron Ensemble, along with the vocals of Najwa Gibran, offers listeners this collection of intricately crafted prayers, love songs and laments, seamlessly threading one tradition into another.
The journey begins with "Tudra," a Moroccan tale of a Jewish ceremony in a village in the Atlas Mountains. The soothing call of a duduk opens the piece with a tune based on an Armenian folk song. "Illahi" is a mixture of Jewish prayers from Spain, Israel and Bosnia and a Turkish Sufi song.
The lyrics are sung in both Arabic and Hebrew, with the voices of Najwa Gibran and Maya Haddi soaring over the music. There is also "Fogel Nakhal," an Iraqi love song with Turkish Sufi and Andalusian influences, and "Vartani Mor Vort," a 5th century lament to the loss of Vartan, a hero to the Armenian people. Rounding out the CD is "Walla Zaman" a love song of the Egyptian Nile Gypsies that is steeped in Bedouin and Egyptian influence.
Aside from Najwa Gibran's and Maya Haddi's vocals, there is Norik Manoukian on duduk, zurna, shvi, tav shvi and clarinet; Virginie Alumyan on kanoun and Jamie Papish playing daf, dumbek, daohi, bendir, bell and zills. There is David Martinelli on riqq, bendir, zills and tar; Carolyne Aycaguer-Ron plays keyboard and of course Yuval Ron plays the ud and saz.
Fans of Middle Eastern music will enjoy the music of Under the Olive Tree. As an added, treat listeners should be sure to read the song liner notes for fusion of origins of the songs and the stories behind them.
Author:
TJ Nelson
TJ Nelson is a regular CD reviewer and editor at World Music Central. She is also a fiction writer. Check out her latest book, Chasing Athena's Shadow.
Set in Pineboro, North Carolina, Chasing Athena's Shadow follows the adventures of Grace, an adult literacy teacher, as she seeks to solve a long forgotten family mystery. Her charmingly dysfunctional family is of little help in her quest. Along with her best friends, an attractive Mexican teacher and an amiable gay chef, Grace must find the one fading memory that holds the key to why Grace's great-grandmother, Athena, shot her husband on the courthouse steps in 1931.
Traversing the line between the Old South and New South, Grace will have to dig into the past to uncover Athena's true crime.