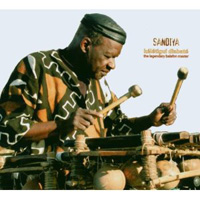 Keletigui Diabate
Sandiya (Contre Jour CJ012, 2004)
The balafon (or simply bala, if you prefer the non-Francophone name) is a West African gourd resonator xylophone that produces a distinctly rustic yet crystalline melodic sound. Along with the kora (21-stringed lute) and jembe drum, it's an instrument that even some of the most modern West African bands employ to retain a link to tradition.
Keletigui Diabate is presently best known as the bala (and violin) player in Habib Koité's superb band Bamada, though he had a long and distinguished career prior to that.
Born in Mali, his instrumental skills (first on guitar) led to his also being highly influential in the modernization of music in Guinea, Senegal, and Ivory Coast in the 1960's. As his skills on the bala moved to the fore, his stints included everything from a Washington, D.C. jam session with vibraphonist Lionel Hampton to extensive work withSalif Keita.
I don't know if Sandiya is the first album he's made under his own name, but it's an absolute stunner. I found it nearly impossible to write this review while listening to the disc, since the music is so engaging- mesmerizing one moment, energizing and dazzling the next. It would seem to be a live recording (bits of applause can be heard) and the sound quality absolutely sparkles. Diabate is joined by various guests, including some, such as his son Fassery, who are relatives and others like kora master Toumani Diabate who are not. What's unquestionable is the musical kinship, as Keletigui's bala is heard in various duo and group combinations with accompaniment on flute, kora, guitar (courtesy of both Habib Koite and
Super Rail Band'sDjelimady Tounkara), percussion, vocals and more bala.
The majority of the pieces are treasure troves of tradition, culminating in a lengthy ode to legendary Manding prince Sundiata. But just when you think all is said and done, the disc closes with a surprising Bamada-assisted jazz shuffle that shows both the range and open-mindedness of the players. By all means, track down and buy this wonderful piece of work without hesitation.
Author:
Tom Orr
Tom Orr is a California-based writer whose talent and mental stability are of an equally questionable nature. His hobbies include ignoring trends, striking dramatic poses in front of his ever-tolerant wife and watching helplessly as his kids surpass him in all desirable traits.