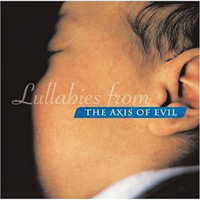 Various Artists
Lullabies from the Axis of Evil (Kirkelig Kulturverksted FXCD 269, 2004)
In his 2002 'Axis of Evil' speech, George W. Bush singled out Iran, Iraq and North Korea, along with their allies, as the enemies of democracy. Enlisting world support for his war on terrorism, Bush pointed a finger and drew the line between us and them – making the all-encompassing 'them' terrorists and hostile foes. But Bush forgot one thing. These enemy states are filled with mothers and children. Producer Erik Hillestad took up the challenge in reminding us with Lullabies from the Axis of Evil .
Hillestad proves 'our enemies' possess a remarkable capacity for love and warmth in a tradition of lullabies that spans generations of sense and memory, considerably longer than George Bush's recollection of his military service and his party days.
Hillestad pairs singers from around the world singing in English with the traditional lullabies sung by a host of singers from Iran, Iraq, Afghanistan, Palestine, Syria, Cuba and North Korea. Pleasantly devoid of stereotypical lullaby arrangements and overproduction, the collection of lullabies on this CD shuns the saccharin and keeps the compositions spare and focused on the song.
The CD opens with "You, My Destiny," pairing Iran's Mahsa Vahdat and Sarah Jane Morris from England. The pair exchanges verses in this heartbreakingly lovely lullaby. Vahdat charms the listener first and Morris's husky voice joins leaving the listener helpless to resist. With lyrics like
"You're my destiny
You're my guiding light
You're my soul and my treasure
Sleep my child
Through the night"
it's hard to go wrong.
Palestinian Rim Banna and Norway's Kari Bremnes trade verses in "This Never Ending Night," a lullaby from Palestine that speaks to the current situation of the Palestinians. The song expresses the sadness of the Palestinian people without the hateful rhetoric we are so accustomed to seeing in the news. It is a gentle and hopeful wish for a child, something the conflict is in desperate need of. There is also "Peace Song," a popular song from Iraq sung by Halla Bassam and Sevara Nazarkhan from Uzbekistan, that proves that the 'them' are much more like us than many politicians would like us to believe.
"Stars Are Rising" sung by Sun Ju Lee from North Korea and Eddi Reader from Scotland is a just one of those charming lullabies. A traditional lullaby from North Korea, the combination of the voices of Lee and Reader, with just a tang of the Asian sound, are sure to lull the most reluctant baby to sleep.
The CD gets more upbeat with "Angel" sung by Syrian Viva Killisly Chachati and Nicaraguan Katia Cardenal and certainly my favorite. It's the type of song one would hope that every mother everywhere sings to their child and has a sort of pop, feel-good feel to it. It expresses the love we wish for all children.
Finally let me mention "Sleep, My Doll," another song from Palestine sung by Rim Banna and Annisette from Denmark. Like all the songs on this CD, it is the perfect fusion of traditional and modern. The blending of the two voices in two different languages along with a Middle Eastern rhythm in this simple song is soothing and precious.
Let me also mention composer Knut Reiersrud on guitars, bass, keyboards, ud and lap steel; Paolo Vinacci on percussion; David Wallumrød on piano and clavinet and Adun Erlien on bass, keyboards and guitars who added to the beauty of this project. Listeners will also appreciate the liner notes and Erik Hillestad's journey of putting this CD together and his impressions as he met and recorded these remarkable women. I don't know if Lullabies from the Axis of Evil will actually help in putting baby to sleep, but it goes a long way to reversing the stereotype of the 'them.' I can't think of a better way to express the care and love in that fundamental communication between parent and child everywhere.
Buy Lullabies from the Axis of Evil
Author:
TJ Nelson
TJ Nelson is a regular CD reviewer and editor at World Music Central. She is also a fiction writer. Check out her latest book, Chasing Athena's Shadow.
Set in Pineboro, North Carolina, Chasing Athena's Shadow follows the adventures of Grace, an adult literacy teacher, as she seeks to solve a long forgotten family mystery. Her charmingly dysfunctional family is of little help in her quest. Along with her best friends, an attractive Mexican teacher and an amiable gay chef, Grace must find the one fading memory that holds the key to why Grace's great-grandmother, Athena, shot her husband on the courthouse steps in 1931.
Traversing the line between the Old South and New South, Grace will have to dig into the past to uncover Athena's true crime.