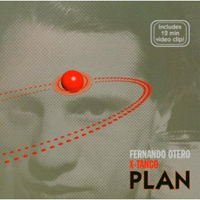 Fernando Otero, X-Tango
Plan (Twinz 602, 2003)
This is not your grandmother's tango! This isn't even your mother's tango. X-Tango, indeed! Fernando Otero uses the nuevo tango of Astor Piazzolla as a springboard into rarified realms where tango keeps close company with contemporary classical music and jazz, with even a nod now and then to pop music. But tango, of the most deeply felt sort, is the organizing principle of this extraordinary composer's musical universe.
The music on Plan is many-layered and multifaceted, not giving up all its bounty immediately, but richly rewards repeated listening. The more you surrender to this music, the more deeply it gets under your skin and reveals its deeply personal emotional core. Despite all its trappings of modernity, which for many are synonymous with the impersonal, this is music that forges a profound emotional connection between composer and listener. The music is driven by contradictions– harsh and tender, harmonious and discordant, darkly sinister and gently hopeful—that play themselves out through a diverse musical palette. The musicians who bring these compositions to life are all extraordinary instrumentalists and breathe emotional life into everything they play, whatever the stylistic vocabulary employed. Tango inspiration is most evident in the core instrumentation: a quintet composed of bandoneón, violin, double bass, cello and piano, which often gives the compositions traditional tango voicing, however untraditional the compositions themselves may be.
The album begins with Otero's statement of intention, "De ahora en más (From now on)". The music is in your face: powerful, discordant, no holds barred, it takes no prisoners. Here is a tango of contemporary life, a cubist re-imagining of Piazzolla's legacy. But as if to reassure the listener that the old tango is still his vital life's blood, Otero follows up with "Página de Buenos Aires (Buenos Aires' story)", a nostalgic piece characterized by melancholy remembrance and painful longing given voice by emotive solos on violin, bandoneón and cello. Numbers like "Música del circo (Circus music)" are written for full orchestra and show how thoroughly Otero has absorbed and internalized the modern classical tradition. Other numbers, like "Sublevados (Mutiny)" or "Unión," send traditional tango off the tracks and into a close jazz embrace.
One of the standout tracks on the album is "La vista gorda (Looking the other way)". This is a syncopated, rhythmic piece with driving tutti passages giving way to brief, nostalgic refrains on bandoneón, which are quickly swallowed up by insistent ensemble passages. What we have here is an musical battle between traditional, sentimental tango and the new wilder harsher and more syncopated variety that Otero is offering us. The CD also has a 12-minute video track featuring live performances of Otero's compositions and brief interviews with the composer and other band members.
The music on Plan, while deeply rooted in the nuevo tango tradition, is sophisticated, thoroughly modern music that would appeal to many musical tastes, be they tango, jazz or contemporary classical music. Otero is an extraordinary composer, whatever stylistic moniker we attach to his work, and has created an emotionally challenging, deeply satisfying and utterly contemporary work in Fernando Otero, X-Tango
Buy Plan.
Author:
Marie Jost
Marie Jost received her doctorate in art history from the University of North Carolina at Chapel Hill. She is a flamenco and world music aficionado, a Hong Kong film enthusiast, and an ardent Leslie Cheung fan. Ms. Jost currently resides in Chapel Hill, North Carolina, U.S.A.