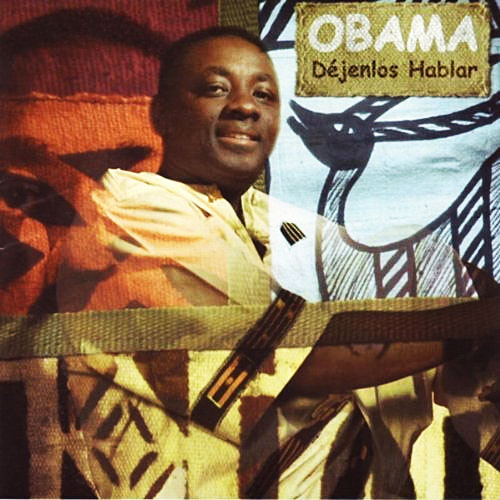 Madrid, Spain – After having worked with most Equatorial Guinean artists in the fields of production and arrangements, Obama now presents his first solo work. Déjenlos Hablar (Let Them Talk) on Kelson Music (kel-104) is a CD full of warm and "danceable" rhythms of the Africa that surrounds the Gulf of Guinea, a melting pot of cultures. For that reason, Obama mixes several languages (Fang, Bubi, Spanish, French, Bisio), and the musical styles of the area (Crushing, Aziko, etc. ) with Latin beats. His lyrics tell  stories of love and nostalgia from his homeland of Equatorial Guinea, without forgetting social issues.
The album Déjenlos Hablar is dedicated to his grandmother Anita Etunu, who became famous with her group Mebana Asang. Obama learned the first percussion rhythms thanks to that group, whose instruments were always around him until he entered the Etofili Revolución Fiesta orchestra in 1976, in Malabo.
Born 10 kilometers from Malabo –the capital of Equatorial Guinea–, Obama began his career as supporting drummer for the Etofili Revolución Fiesta Big Orchestra, while attending high school. He won his first award in the Festival-Contest of the French Song in the category of vocal percussion and carried up musical training in: sound, trap drums, percussion and acoustic guitar.
In order to continue his education, Obama moved to Paris, where he deepened his musical training in several instruments, like piano and drum kit, and in musical computer science at the prestigious CIM Ecole de Jazz et Musique Moderne, a school frequented by well-known musicians like Angelique Kidjo, Lokua Kanza, Zap Mama, etc. Obama was the composer and producer of the song Valencia,
with which Hijas del Sol and Besosso entered the OTI Festival in 1992.
Obama took part in Brazzaville Congo 96 in the framework of a symposium for the development of African music, FESPAM 96.
Obama has worked in musical productions and concerts with the following artists: Eko Roosevelt, Bessoso, Maele, Efamba, Eu Ma, Pina Bessosa, Phillip Selam, Aldo Romano, Sydney Thyam, Baron ya Buk-lu, Djambutou, Africa Lisanga, Diengoz, Moana Sinepi, Mastho Ribocho, etc. He also performed the song Kulu Ngile, which appeared in one of the recent Carlsberg commercials.