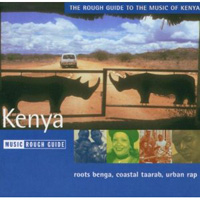 Various Artists
The Rough Guide to the Music of Kenya (World Music Network RGNET 1137 CD, 2004)
The tightly syncopated, guitar-percolating style known as benga is the popular music most closely associated with the East African nation of Kenya, originating in the traditional music of that country's Luo people before going on to be big nationwide. But since this is one of World Music Network's far-reaching Rough Guides we're dealing with, benga is only one side of the story. There's also the taarab style that stems from Indian Ocean coastal sounds, rumba based on the classic Congolese model and modern fusion influenced by R&B and hip-hop.
The lineup here is geared toward the roots, which is likely to please listeners new to Kenyan music or who don't yet possess an abundance of it. Benga has something of the same bounce as South African mbaquanga music, and the opening example by one Queen Jane lays a sprightly foundation for further scorchers by Kakai Kilonzo and D.O. Misiani, both of whom also have a hint of rumba in their selections. For full-on rumba it's the venerable but now dissolved Golden Sounds Band sweetly tearing it up.
The taarab selections, infused with equal parts Swahili ethnicity and Muslim spirituality, are delights of tumbling percussion, accordion, violins and relaxed vocals. The real grabbers, though, are traditional-based tracks not easily classified, including the meaty stomp of Yunasi's cautionary tale about personal responsibility, a completely engaging song by Suzzana Owiyo that's wrapped around an odd but irresistible rhythm and the lengthy down-home jam by Kenge Kenge Orutu Systems that closes the album.
In all, a very rich sampling of a country whose music isn't as widely available as some others on the African continent but has every right to be.
Buy The Rough Guide to the Music of Kenya
Author:
Tom Orr
Tom Orr is a California-based writer whose talent and mental stability are of an equally questionable nature. His hobbies include ignoring trends, striking dramatic poses in front of his ever-tolerant wife and watching helplessly as his kids surpass him in all desirable traits.