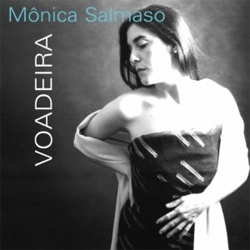 Monica Salmaso
Voadeira (Blue Jackel/Lightyear/WEA)
Chanteuse Monica Salmaso comes from a country that bursts with musical talent. Most fans of world music can name at least one Brazilian performer, from the bossa nova, Brazilian jazz, samba or electronica fusion genres. However, a huge gap lies between talented breathy singers who lay down vocal tracks for the latest electronica craze and true artistry. True artistry often steers clear of the latest trends, leans heavily on varying cultural influences and explores more complicated musical repertoire. These musicians both educate and entertain their audiences.
Ziriguiboom recording artists, Cibelle and Bebel Gilberto certainly have popular appeal, mainly because they take the safest route by appealing to dance club audiences. Obviously a need for dance music exists, especially in the holiday-making Brazil and beyond. However, I find myself drawn to the more earthy sounds of guitarist Celso Fonseca, Bahian vocalistVirginia Rodrigues  and the Paulista newcomer, Monica Salmaso, whose sincere and understated singing abilities exudes true artistry.
The uncompromising Salmaso won't become an overnight sensation in either Brazil or the US. She spent over a decade building her vocal talent and her repertoire that consists of Brazilian folk, indigenous, Afro-Sambas and more contemporary fare. Salmaso has released two solo CDs, her debut, Trampolin and her second release, Voadeira, both which have attracted critical kudos.
Born in Sao Paulo in 1971, Monica Salmaso's original intention was to become a journalist, but taking vocal lessons to help her relax changed the course of her life. In 1989, a friend introduced her to theater director Gabriel Villela who was searching for a young singer for his work titled, Congregation of Love.
Salmaso took the role of Veronica singing Gregorian chants and stayed with the role for a year. After that, she worked in the competitive Sao Paulo club scene, singing with various projects and winning awards. In 1995 she began pursuing a solo career and joined up with virtuoso guitarist Paulo Bellinati to record Afro-Sambas. This partnership eventually led to the recording Trampolin, which was produced by record label owner and bassist Rodolfo Stroeter. That project in is an intriguing story in itself.
In 1999, Monica emerged the winner of the Premio Visa de MPB Vocal Edition (contest). She was one of 1,247 applicants that competed for the prestigious honor and she walked away with a one album recording contract, the equivalent of $21,000 and a new Volkswagen. The 28-year old mezzo soprano finally rose above obscurity and her meticulous attention to detail, her instinctive vocal talent and humility would be appreciated by a wider audience, even if popular appeal still alluded her.
Her second CD Voadeira offers a pleasurable listening experience with its moody repertoire ranging from sad celebrations, (Fatima Guedes' Silenciosa and Vinicius De Morais/Chico Buarque's Valsinha), to the up tempo carnival samba, Ilu-Aye (Cabana and Norival Reis). The moody selection of material recalls guitarist Celso Fonseca's seductive interpretations of Brazilian classics and Monica's pure honeyed vocals mirror that of Virginia Rodrigues. However, the sisterhood that exists between Salmaso and Rodrigues goes much deeper. Both performers successfully marry Afro-Brazilian music with European instruments with the main focus on vocals. And the vocalists both exude a spiritual element in their music that is laced with purity and a great deal of reverence. They sing for the joy of it and this comes through in every breath, every nuance, the intonation, phrasing and all the other elements that separate mediocre from luminous singing.
The CD features 15 songs, by well-known Brazilian composers and are embellished by an array of exceptionally talented musicians including, guitarist Paulo Bellinati who shows up on Silenciosa and other musicians returning from the Trampolin CD. The stripped down songs feature various instruments, such as acoustic bass, percussion, clarinet, violin, accordion, piano and guitar which merely frame Monica's vocals. A swirl of accordion or a flourish of clarinet presents itself, then fades into a backdrop of light percussion, piano or guitar. This results in a seductive allure like a sunny beach tucked away behind the more tourists-friendly Brazil many have come to know.
The songs drip elegance and are incredibly sophisticated and it is because of this that Voadeira and its vocalist Monica Salmaso catch listeners off-guard. Her vocal talent, although seemingly subtle on first listen, soon reveal its true strength which is akin to the strength of a silent stalking lioness and not the showy roaring lion. Thankfully, there is room in the world for both fanciful Brazilian pop and true artistry. It's just a matter of educating the public into distinguishing between the two.