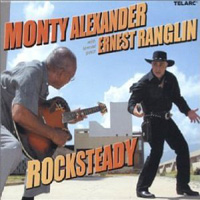 Monty Alexander with Ernest Ranglin
Rocksteady(Telarc CD 83581, 2004)
Two longstanding icons of Jamaican popular music, pianist Monty Alexander and guitarist Ernest Ranglin, have been edifying–as opposed to blurring–the lines between jazz and reggae for decades. Both were already veteran players by the dawn of the ska era and both continue to infuse the island vibe into their work. They've both branched out as well, including Alexander's application of his extensive skills to straight ahead jazz and classic American songs and Ranglin launching into some fruitful explorations of African music. But it's back to the foundation on this collaboration, resulting in a nearly perfect fit all around.
The pieces the two reinterpret instrumental-style are Jamaican classics by virtue of being milestones in roots and culture (Burning
Spear's "Marcus Garvey," the Congos' "Row Fisherman"), successful well beyond their country of origin (Dave and Ansell Collins' "Double Barrel," Desmond Dekker's "Israelites,") or possessing a mystical quality reggae listeners know and love (Augustus Pablo's "East of the River Nile").
On each track Alexander (who shines on both piano and melodica) and Ranglin manage to keep familiarity intact while still getting in their licks as soloists and superb navigators of the groove. A tightly locked drums and bass backbone and rhythm guitar chug consistently bespeak reggae, notwithstanding the fact that the bass is acoustic and the drummer throwing down as many jazz tricks as reggae ones.
The sole vocal cut is Toots and the Maytals' ever-dependable "Pressure Drop" sung by Toots himself, wielding his pipes in the same quietly masterful way the rest of the disc delivers. Well, not quite all the rest.
Only the last cut, Bob Marley's "Redemption Song," doesn't measure up. The instrumental version here is done with too much reverence and not enough fire, simpering where it should simmer. It's okay as a kind of afterthought, but best ignored in favor of the flawlessly pulsing arrangements and solid playing that
came before.
Buy Rocksteady.
Author:
Tom Orr
Tom Orr is a California-based writer whose talent and mental stability are of an equally questionable nature. His hobbies include ignoring trends, striking dramatic poses in front of his ever-tolerant wife and watching helplessly as his kids surpass him in all desirable traits.