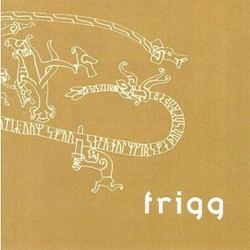 Frigg
Frigg (NorthSide NSD6079, 2004)
Sharing a name with the Nordic goddess, Frigg, this septet marries Norwegian Hardanger fiddle with Finnish folk fiddling traditions. Frigg combines the talents of two sons and a daughter of the infamous Jarvela fiddling clan who founded the Finnish folk group, JPP and two Larsen brothers of Norway's Hardanger fiddle clan. Hailing from Finland's Kaustinen region (the de facto folk music capital of Finland), most famous for its international music festival and folk music talent, Frigg's repertoire includes Norwegian halling, Finnish folk and American bluegrass, but you can also find a couple of chamber pieces thrown in for good measure that recall Maria Kalaniemi & Aldargaz's recordings. Yet, that shouldn't come as a surprise since members of Aldargaz comprise JPP and the musicians are regular fixtures in the Kaustinen music community.
The musicians that comprise Frigg include, Alina Jarvela (fiddle), Esko Jarvela (viola, fiddle, nyckelharpa, harmonium), group leader Antti Jarvela (double bass, fiddle, viola, harmonium), Gjermund Larsen (fiddle, Hardanger fiddle), Einar-Olov (fiddle, Hardanger fiddle), Petri Prauda (cittern, mandolin) and Tuomas Logren (guitar, dobro). Guest musicians include, a touted architect of the Finnish folk music revival, Timo Alakotila (grand piano), Rami Eskelinen (drums), Janne Tovikoski (percussion) and Antti Paalanen (2-row accordion). Together these musicians weave a tapestry, that is heavy on Nordic fiddle and embellished by American bluegrass twang.
Saro, Meltaus and Ril resemble an American hoe down, although a sedate cousin to the Appalachian variety. Eraana Kauniina Paivana falls into dreamy territory with its lyrical phrasing. Kotkampaa blends gorgeous Nordic fiddling with guitar twang with some amazing lifts and twists tossed into the mix. The chamber piece, Salmetone recalls both the Kronos Quartet and Aldargaz. While various musical influences can be heard throughout the recording, Antilope Island, as well as, Takomistanssi/Ruunankummi are excellent examples of Finnish folk fiddle tradition. A bulk of the songs were composed by Antti Jarvela. Four of the thirteen tracks are traditional while the remainder of tracks were composed by other members of the septet. Obviously with so much budding musical and composing talent, the next generation of Nordic folk music looks promising.
Hopefully, Finnish youth will stop turning their eyes towards American television programs and pop stars for inspiration and instead look in their own backyard, overripe with innovative folk music superstars.
Compliments of Cranky Crow World Music.
Buy Frigg.