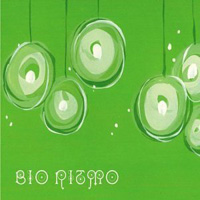 Bio Ritmo – Bio Ritmo (Locutor Records LR 001, 2004)
Various Artists – The Rough Guide to Mambo (World Music Network RGNET 1136 CD, 2004)
I've been previously chastised for offering a rudimentary explanation of what I perceive to be the differences between salsa and Latin jazz, and rest assured I'm not any more educated on the subject now than I was then. But I remain a lover of both, as well as another style that I find myself lacking in true academic knowledge of: mambo. I will nonetheless try to make my appreciation of these two Latin-related releases evident.
Based in Virginia, the band Bio Ritmo has put out albums that, while showing obvious talent and commitment, were uneven. They sounded at times more like a parody of a salsa band than the real thing. The promotional materials for their latest disc mention the group's aversion toward the cheesy, tacky air commercialized salsa can take on, and their own sonic eccentricities can seem like a counterattack against that commercialism. Whether that's their strategy or not, they've hit the mark here. Their self-titled new one, Bio Ritmo, is inventive and catchy salsa that hearkens back to the adventurous sounds created a few decades back when salsa was a new music branching out from Latin jazz. The production is nicely bottom-heavy at times, showing how well the bass locks up with the percussion though brass, piano and vocals are not buried.
Occasional surfacing of quirky electronic sounds keeps up a feel of loose fun even as the use of Fender Rhodes piano and heavy rhythms like Puerto Rican bomba recall the stuff of the classic Fania Records label. Yes, there is a necessary degree of salsa formula at work, but crafty detours into Brazilian grooves, effects-laden solos and genuinely heartfelt balladry give the album smarts and sweetness. It clocks in at a lean 42 and-a-half minutes, but let's figure that means Bio Ritmo are saving even more goodies for their next one.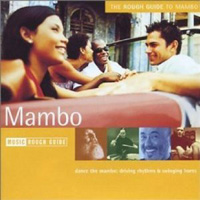 Afro-Cuban rhythms, orchestral jazz intricacies and urban hipness combined to make mambo a genuine craze by the 1950's. Based on Cuban conjunto music, mambo also took Latin jazz elements and put dance pulses firmly at the center of them. This new Rough Guide features a half-century's worth of mambo tracks, all
cooking with that marvelous mix of smooth and furious that had ballroom floors sweating back in the day and retains the power to do so. The pioneering masters–Tito Puente, Machito, Xavier Cugat, Cal Tjader, etc.–are heard on some choice material, and contemporary torch-bearers like Mamborama and Snowboy stir the pot as well. To say this compilation smokes is understated in the extreme.
Listen to the incredible kinship between percussion and wind instruments on classic cuts by Mario Bauza and Perez Prado, the characteristically swirling piano montunos or the ageless energy of octogenarian bongosero Jack Costanzo and you'll get a healthy reminder of why mambo was some of the first "world" music to grab the public's attention.
The Bobby Matos/John Santos collaboration "I Don't Speak Spanish (But I Understand Everything When I'm Dancing)" pretty much spells out the enduring mambo allure- a combination of deep African roots,
sexiness, humor, joyous surrender and rhythm that gets you every time. If you had the good sense to purchase the recent Rough Guide to Latin Jazz, don't hesitate to pick up this excellent companion piece as well.
Buy The Rough Guide to Mambo
.
Author:
Tom Orr
Tom Orr is a California-based writer whose talent and mental stability are of an equally questionable nature. His hobbies include ignoring trends, striking dramatic poses in front of his ever-tolerant wife and watching helplessly as his kids surpass him in all desirable traits.