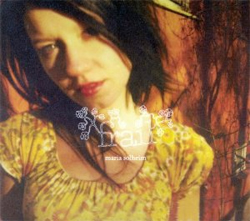 Maria Solheim – Frail (Kirkelig Kulturverksted)
Jan Eggum & Blatur – Everybody's Doing It (Kirkelig Kulturverksted)
A plethora of singer-songwriters hail from Norway. And while the singers mentioned in this review do not perform traditional folk music, an argument can be made for the Norwegian tradition of singer-songwriters. To give a scope of this contemporary tradition, a long list including Sami songwriter-vocalist Mari Boine, jazz vocalist Agnes Buen Garnås, Kirsten Braten Berg as well as, the line-up of songwriters that appear on the Kirkelig Kulturversted label. This label boasts a prolific list that includes Kari Bremnes, Rebekka Neophyte, Ingrid Bjornov, Kari Iveland, Anita Skorgan, Katie Cardinal, Grethe Svensen.
Two other singer-songwriters that appear on the label, the youthful chanteuse Maria Solheim and the witty songster Jan Eggum are featured in this review.The waif-like Maria Solheim's third recording Frail draws comparisons to the audacious Canadian singer-songwriter, Martina Sobara as well as, the ethereal Icelandic vocalist Bjork. Maria sings in soft, breathy voice that hovers near a whisper although she brings her vocals up a few notches on the rocker, Mr. Iceman and to an extent on Restless Girl. Her songs exude personal poetry that aspires to young college women. She sings of pain in her body, relationship issues as she musters up enough confidence to strike out on her own. Her songs also strike out on their own, often featuring lush arrangements of acoustic, electric guitar, various keyboards, guitar drones, dobro, banjo, strings, percussion, horns and instruments that have been resurrected from the 1970's. The arrangements are dreamy, moody and slightly psychedelic.
She is joined by several of Norway's innovative musicians with Emil Nikolaisen on piano, Tor Egil Kreken on bass, Torstein Lofthus handling percussion duties, Audun Haugeplass and David Wallumrod on keyboards and Kjetil Steensnaes on guitar. The label describes Frail, "Her interpretations and the original sound of Nikolaisen's production create a unique poetic yet raw ambiance, simply in a world of its own." The songs range from shattering personal laments to more sonic repertoire, Restless Girl and Mr. Iceman. Will You Say echoes Bjork's girlie vocals and is set to a musical atmosphere that recalls chimes singing in the wind. My personal fave is the poignant Too Many Days because of its strong lyrical content. On first listen, the set of songs resemble folk-light. Then
after a few more listens raw emotions surface and the true power of the songs is released. Considered one of Norway's most exciting female artists, perhaps her third CD, Frail will turn heads in the rest of the world.
Moving away from melancholic personal folk to something a bit more funky, Jan Eggum teams up with vocal septet Blatur. With this new set of songs, Eggum's offering glimpses into a world of stretched, selfish and totally abandoned morals, which is most evident on the track Big Brother. This song includes news sound bites that revolve around the Bush administrations dualistic war on terror. However, since the songs are sung in Norwegian and no English translation is provided, listeners not steeped in the Norwegian language (such as myself) miss out on what the label cites as highly entertaining, world-weary, sharp and ironic.
The Beat Goes On and Oh, What a Morning recall African American soul. All of the songs feature lush harmonies reflective of the American a cappella group Honey in the Rock as well as Belgian a cappella group Zap Mama, even though those two groups feature only women vocalists. The Film features polyphonic vocals while Virtual Friends features a mirthful arrangement that is light on its toes. Acoustic guitar and light percussion frame a few of the tracks, yet it is the vocal talent, Tina Brandal Mork (soprano), Tone Merethe Vollen Sperrevik (soprano), Guro Havik (alto), Merete Brandal Godo (alto), Eivind Vatsaas (tenor), Per Gunnar Heltne (baritone) and Bjorn Holum (bass) along with Jan that delight the ears.
Compliments of Cranky Crow World Music.