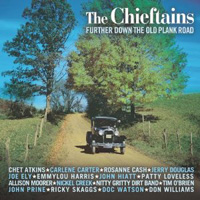 The Chieftains
Further Down the Old Plank Road (Victor/BMG Music 82876-52897-2, 2003)
Imagine just for a moment that Paddy, Seán, Kevin, Matt or Derek called you up on the phone and asked if you wanted to get together and do a little something. The question is who, in their right mind, says 'no' to The Chieftains, right? And, it looks likes from their latest  Further Down the Old Plank Road CD, no one said 'no.' This CD features, just to name a few, Rosanne Cash, Emmylou Harris, Patty Loveless, Chet Atkins, John Hiatt, Nickel Creek, the Nitty Gritty Dirt Band Ricky Skaggs, John Prine and Doc Watson. If that weren't enough enticement, there's also Paddy Moloney, Seán Keane, Kevin Conneff, Matt Molloy and Derek Bell – you know, those guys – The Chieftains, Celtic music's version of a food group.
Not to be confused with their Grammy-Award nominated album of 2002 Down the Old Plank Road or the TV special and DVD, Further Down the Old Plank Road features songs from the special not on the first album, as well some fine additions. The liner notes explain it away as, "It's an album so nice they made it twice."
Rip roaring tracks like "The Raggle Taggle Gypsy" with Nickel Creek, "Jordan is a Hard Road to Travel" with John Hiatt and "The Squid Jiggin' Ground/Larry O'Gaff with the Nitty Gritty Dirt Band speak to the intent of the original project, exploring the link between the music of Ireland and America. Allison Moorer's throaty vocals stand out on "Hick's Farewell," as does Rosanne Cash's rendition of "The Lily of the West." It's Emmylou Harris' "Lambs in the Greenfield" that speak of the best of both shores, without the sickeningly gooey sound that plagues so many Irish ballads. Doc Watson's guitar shines on "Fisherman's Hornpipe/The Devil's Dream, as Chet Atkins cracks a joke before accompanying the Chieftains on "Chief O'Neill's Hornpipe" Ricky Skaggs' poignant rendition "Talk About Suffering" is delicately soothed by flute and harp, creating a landscape of both the Irish and American folk traditions.
Further Down the Old Plank Road brings together a bevy of talent and it shows. It's poignant, delightful and fun. Who could say 'no' to that?
Author:
TJ Nelson
TJ Nelson is a regular CD reviewer and editor at World Music Central. She is also a fiction writer. Check out her latest book, Chasing Athena's Shadow.
Set in Pineboro, North Carolina, Chasing Athena's Shadow follows the adventures of Grace, an adult literacy teacher, as she seeks to solve a long forgotten family mystery. Her charmingly dysfunctional family is of little help in her quest. Along with her best friends, an attractive Mexican teacher and an amiable gay chef, Grace must find the one fading memory that holds the key to why Grace's great-grandmother, Athena, shot her husband on the courthouse steps in 1931.
Traversing the line between the Old South and New South, Grace will have to dig into the past to uncover Athena's true crime.