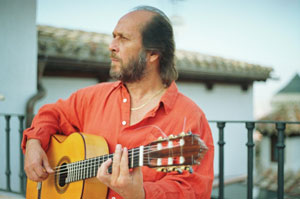 1. After several years living in Mexico, why have you decided to come back to Spain and settle in Toledo?
I decided to come to Toledo for several reasons. One of them is that it is close to Madrid, without the traffic jams of the capital. There is no stress here. Toledo is a town that takes you back in time. You go out for a walk through the streets and you come back home with a beautiful feeling of peacefulness, of living in a different time.
You remember about the Jews, the Arabs, the Visigoths, the Carthaginians, the Romans. All the people that once lived there…you can feel them everywhere in town. Thank God the construction companies [developers] didn't pull down these places. Here I find the quietness that I need for working, composing, and getting inspired. I have always liked everything related to the Arab and Jewish worlds. I think that many of the people who lived here made a significant contribution to our culture- to the music of our country, for instance.
I found some Sephardic scores and there I noticed the great influence that this music has in Flamenco. I used to think that Flamenco was more influenced by the Arab culture, but I am pretty sure now that it is more linked to the Sephardic music made at Toledo at that time.
2. After five years of silence, what can you tell us about this new album called "Cositas Buenas" [Good things] and about your re-encounter with Camarón de la Isla and the cante [Flamenco song]?
Apparently this is just another album, but I always try and I have made my best this time to make it thealbum, as well as the album that finally satisfies me. I always search my personal satisfaction and not only try to satisfy those who buy my music. I have been isolated. I shut myself away for two years, trying to fix some gaps. I think that you evolve when you refill your gaps, when you overcome all those things that you consider as failures, things that you should not repeat. I have tried to be, as always, more and more flamenco and, at the same time, to go forward in terms of harmony and rhythmic composition. I have introduced voices, choruses, cantes… because I somehow miss the music that I used to make in the company of Camarón.
I have always thought that the guitar, playing as a soloist, was a little boring. What I would have really loved to do, and I have said this many times, would have been to sing. I would give everything I know as a guitar player for having been half of what Camarón was, who, by the way, is in this album. I have rescued some of the master copies of our old recordings.
There were takes that were not useful at the time and that's when you couldn't do what you do today with digital copies, with ProTools! I have rescued some lyrics that were not useful and we had discarded. So it was a delicate and complicated job, but I have been able to rescue a Camarón that seems so alive in this album.
3. Collaborators:
There are several people singing in the album, such as a girl from Seville called La Tana, Montse Cortés, Diego El Cigala, Guadiana, El Potito, la Angela… There are very good professionals in this album. I think that it is worth buying. Come, come! Go to the stores and buy it!
4. One of the jewels in this album is the buleria called "Que venga el alba", where you rescue Camarón de la Isla and you play together with Tomatito. How did you feel while recording this song?
The fact of having Camarón in the album is a blessing to me both at an artistic level and at an emotional one. To have him in the album is to go back to that past that I miss so much and that I long for. And El Tomate [Tomatito] could not be left out. He was a part of that past. We had a good time and we cried when listening to Camarón. It was like going back in time. After finishing the song, we listened to it and tears started to fall from our eyes. It was as if Camarón was
there, as if he had just gone to the bar for a cup of coffee.
Tomatito is a great guitar player, a great flamenco and a good aficionado of the guitar, which is a basic quality to any musician.
Musicians and cantaores [Flamenco singers] came to the studio to listen to what I was working on and one day came Dieguito El Cigala and asked me: "Paco! What am I going to sing in the album?" And I said: "I don't know, Diego, let's see what we have here". And I found some tientos, some lyrics that I had made and that I had sung as a reference. He sang them beautifully. Diego was fantastic… beautiful lyrics.
Potito also stepped by, but he only had time to make a chorus. I would have loved to have him singing some lyrics solo but he was in a rush to get to Seville and we didn't have time…but he won't escape next time!
El Piraña plays very well. He is 20-21 years old and he has such rhythm and tempo, and such a balance when he plays that it seems as though he was an old veteran player. I am taking him to the USA as well as the bass-player called Alain Perez, who is Cuban and plays really well. These two boys are very young.
EI Negri, from La Barbería, is also coming, as well as La Tana, who is a cantaora from Seville who sings very well. She also performs in the album; so does her mother, Herminia, who also sings beautifully. And I am now looking for an Indian violinist. I came up with this idea at the last minute and I don't know if I am going to be able to find one in time! That's what I am working on right now.
5. Let's talk about your collaboration with your friend Alejandro Sanz in the rumba called "Casa Bernardo".
Yes, Alejandro is also in the album, but he couldn't sing. The day he came to the studio he was hoarse because he had such a cold he couldn't even talk. There was a Cuban "tres" in the studio, which is like a little guitar and he started playing it over a theme, a rumba, and he came up with some very pretty sounds. I would have liked him to have improvised as we went along because it would have been an original and new idea and he is able to improvise because as a musician, he has enough knowledge to do that. He is not a singer that learns his songs by heart and then repeats them parrot-fashion. Alejandro has the ability to improvise. He came and played his part in the album. It is like a little souvenir. What I wanted was for him to be there. So I have a souvenir of him.
6. Where have you composed this album?
I went to a very quiet place in the Yucatan, in Mexico where I have spent the last four years of my life. The house is in the middle of the rainforest where the weather is perfect. There is nobody there. You see a tourist every two days or so on the beach. The place is packed with flowers, birds… All the noise that you can hear is that made by the birds. Holy noise! I am allergic to big cities, cars, telephones, engagements and I thought that this was the perfect place to get into the well and search for something I hadn't said before, musically speaking, I mean. So I spent two years there, working for eight or ten hours every day, trying to find something that you don't find anymore in places where you are stressed out. Basically, it was about being in a quiet place. "Puja", that's the name of the little village. There I was with my guitar and the computer. It's the first time I compose with the help of a computer. It is convenient when it comes to editing and changing parts without having to touch and repeat them, as I was used to do because I always worked with one of those little tape recorders or cassette players.
7. What is your relationship like with Universal Music, your record company?
The record company treats me well since I was a kid. They already know how it goes with me and they respect my time. They know that I cannot publish an album every year, as a singer might do, who is presented with twenty songs, picks up ten, so you can make a record every month. They know that I need the time to go by, that things have to happen to me, that I have to experience new feelings, so that the next time I get into a studio to record an album I have something to say, so that there is something new to say. And they have never really rushed me. They have always allowed me enough freedom in this respect. I have never felt pressured by record companies. They have always respected me in that sense. Not only now that I am consecrated as an artist and I enjoy certain prestige; this happens since I was a kid. I always imposed that condition. I told them that I couldn't work with deadlines in order to make an album. In that respect, I have always felt very calm and completely free.
8. Who are your albums for?
When I start recording an album I never think about the commercial aspect of it, about an album that everyone is going to like because that is when you fall. When I start composing, what I want is to like myself. I try to be loyal to what I feel, and what I feel, since it is very specialized and very detailed, well, I imagine that it only touches the specialized people. I am very clear on that. I am who I am thanks to the four or ten persons that have done their best to tell everyone that I am a good player and maybe the rest of the people don't specially dislike my music but maybe they do not get to understand what I do, as opposed to those ten persons, to say a number, who are the ones who really understand what I do. Suddenly, we might come up with something that touches more people, but I never do it with a business-like mentality. I am always loyal to what I feel and what I am.
9. Has flamenco music gone from marginal music to worldwide music?
Flamenco music was always very mistreated, always…Specially in our country [Spain].
Because, as it happens in many other places, indigenous music is not respected, it is not given enough consideration. Flamenco music was always said to be the music of the gypsies, of drunken people, of the Andalusian people, of people that for the mentality of the rich, the Grandes Señores [Lords], not of the Señores[gentlemen], was not fancy or distinguished.
Whatever comes from abroad always tends to be more appealing. I don't think that Flamenco music is better understood right now than it was before. Maybe it is true that the minority who understands it has increased and, of course, the flamenco artist is given a better treatment. I remember my father who earned his life playing at nights for the señoritos [term to designate the rich stratum in Andalusian society], for the drunkards that suddenly felt like having a party and they went to a joint that was in my town, in Algeciras [Cadiz province], to a cabaret where there was a backroom where the four or ten flamencos [flamenco performers] that there were in town played and when some drunkard came and wanted to have fun, he would call the flamencos. That was the highest thing any flamenco musician could aspire to: to be hired by one of these people, that he got drunk with his whores and felt like having a party. My father would come back home with the 100 or 500 Spanish Pesetas [less than 1 / 3 euros, respectively] that the señorito had tipped him and we would have breakfast with that. It is not like that anymore, although there are still people who keep on earning a living playing at that kind of parties. But Flamenco music is now played in theaters, we make international tours, we give concerts in important theaters all around the world, it is much better seen socially as well as musically.
Music is being spread through the TV, the radio, the records, all the media, so it has reached the whole world and there has been a general acknowledgement all around the world, in all the countries where there are sensitive people and people who like music, people who are savvy in this matters, that recognize the values of Flamenco music.
10. Tell us about the growing interest in you and flamenco music in Japan.
I have been going to Japan since I was 16 or 17 years old, where theaters are always packed and very important ones… classical music theaters. For many years, Japan has considered Flamenco as a music that is of universal interest, as it actually is. I also consider that it is one of the most important types of music there are in the world. There are five o six kinds of music in the world that I consider interesting. Those are jazz music, classical music, Brazilian music, Cuban music, African music and Flamenco. Flamenco is one of these kinds of music and I don't say it because it is the one that I live on, but because it is true.
That's it. And yes, it has been highly considered in Japan for many years now, as it was in the United States and now, thank God, is also regarded as such throughout Europe and I would say that in the rest of the world, too. For instance, I play in countries and cities where no Flamenco musician had ever been before, not even I, and I find myself in theaters filled with people who are crazy about the music and then, when you finish your performance, there are hundreds of people at the doors with Flamenco albums in their hands… with my albums also, asking me to sign them. And I am talking about places like Taiwan or Singapore… places you would have never imagined.
—
Interview courtesy of Verve/Universal Music. The interview was made in Toledo (Spain) December 14, 2003 by Manolo Nieto. English translation edited by World Music Central.
Author:
Angel Romero
Angel Romero y Ruiz has been writing about world music music for many years. He founded the websites worldmusiccentral.org and musicasdelmundo.com. Angel produced several TV specials for Metropolis (TVE) and co-produced "Musica NA", a music show for Televisión Española (TVE) in Spain that featured an eclectic mix of world music, fusion, electronica, new age and contemporary classical music. Angel also produced and remastered world music albums, compilations and boxed sets for Alula Records, Ellipsis Arts, Music of the World.