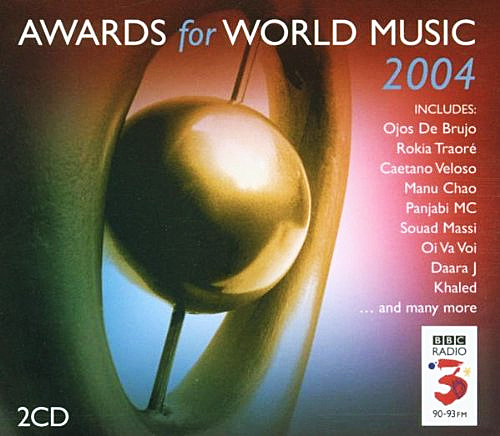 Various artists – BBC Radio 3 Awards for World Music 2004 (Manteca MANTDCD224, 2004)
Here we go 'round again. This year's finalists from the third annual BBC Radio 3 Awards for World Music on another well-annotated, thoughtfully-programmed selection, featuring a track from each artist's most recent album.
There are 32 tracks/artists in all over the 2CDs and the emphasis here is more towards the uptempo. For example, the set kicks off with one of my favourite Brazilians – DJ Dolores and his band, Orchestra Santa Massa, a brightly-coloured magpie collective taking musical influence and inspiration from the world scene pick'n'mix style and presenting it to the world with a very Brazilian (ie innovative) edge. A perfect choice as winner for this year's re-vamped 'Fusion' category, re-packaged as 'Club Global'. On it goes, through a veritable who's who in 2003/2004 world music hipness and reflecting the spinning axis that is the world music cognoscenti, who dictate the direction we're looking for new sounds
through the very process of this awards system.
As fashion has it, European artists have twice as many entries here compared to almost any other region -Latin America/North America/Asia/Middle East & North Africa/Africa – and the Pacific region scores a totally under-represented zero presence. This is a complaint and, of course, is a criticism of the awards process itself, not of this generally fine set with high spots including Turkish renaissance man Mercan Dede, whose work from a Sufi root spreads out to encompass the very traditional to the ultra-contemporary, one of two excellent Polish acts in the finals –Warsaw Village Band, a track from Cesaria Evora's terrific new album 'Voz d'amor', London's very own groove machine Oi Va Voi and North African chanteuse Souad Massi with 'Bel El Madhi' (The Gate Of The Past), from her classy 2003 release, 'Deb'.
There are some low points too: the (frankly) political choice of dodgy pop purveyor Kazem Al Sahir from Iraq, Trilok Gurtu's inspirational but mostly incomprehensible studio work and the not very convincing Euro/Brazilian hybrid that is Zuco 103 all fail to impress and do detract from the overall feel of the collection.
Compiler/awards presenter Rita Ray has done an excellent job within her remit and the release is well worth the money, but I predict you'll be using the 'delete' option on your CD programmer for certain tracks before too long.