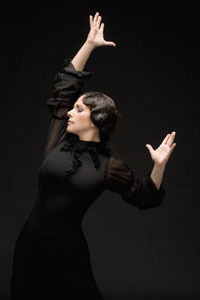 Ballet Flamenco Eva Yerbabuena
Concert Preview
UW World Music Series
Meany Hall for the Performing Arts
Seattle, Washington
The flamenco sensation Eva Yerbabuena brings her dynamic troupe of six dancers and seven musicians to Meany Hall of the Performing Arts, (University of Washington, Seattle), on March 4-6, 2004 and as part of the UW World Dance series. Ballet Flamenco Eva Yerbabuena has been touted often as "hot" by the
British press and the award-winning flamenco dancer Yerbabuena has collected as many adjectives for her elaborate costumes as she has for her technique and innovative choreography.
The touring performance features choreography by Yerbabuena, music by Paco Jarana, arrangement by Antonio Coronel, lighting design by Raul Perotti, wardrobe by Jimena San Roman and sound by Manuel Meñaca. Judging from the reviews I've read on this production, audience members can expect plenty of
duende (a deep sadness compared to the blues), flashy costumes, fancy footwork, as well as, an immersion in the Andalusian culture and rhythms of Southern Spain.Acclaimed as one of the most important flamenco performers working today, The Guardian (London, England) cited, "Yerbabuena makes a feature of her own purity by presenting a show stripped to essentials. Her style of movement is focused strictly on the pure rhythms and lines of flamenco. She is, as far as it is possible to be in the dance form, a minimalist." Since Ballet Flamenco Eva Yerbabuena was founded in 1998, "the minimalist" Yerbabuena has performed at prominent venues in Europe and the Americas including, Biennial of Seville, New York's City Center Theatre, Theatre de la Ville, Paris, and scores of other
international theaters.
The dancer-artist has also participated in special projects and galas while collaborating with choreographer Carolyn Carlson as well as, performing with Mikhail Baryshinikov, Brazilian musician Caetano Veloso and others. She also made a short film appearances in Mike Figgis Leaving Las Vegas and the I-Max production Pulse in which the flamenco dancer can be seen dressed in a purple
frock dancing on a rooftop in Granada. However, it is best to see this performer in concert rather than in short cinematic glimpses.
For more information about Ballet Flamenco Eva Yerbabuena's Seattle performance contact the UW Arts Ticket Office (206) 543-4880 or visit the UW World Series web site, www.uwworldseries.org Meany Hall for the Performing Arts is located on he UW campus on 15th Avenue NE between NE 40th and NE 41st. Show time is 8 p.m. on March 4-6, 2004.