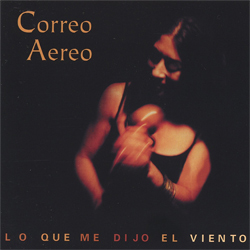 Correo Aéreo
Lo Que Me Dijo El Viento (independent release)
Recently the world music duo, Abel Rocha and Madeleine Sosin, better known as Correo Aéreo came to my attention. While promoting a benefit peace concert via a public radio station in the Seattle area, Abel and Madeleine wheeled out a few gorgeous folkloric songs of the Americas. It's not unusual to hear Seattle based musical talent appear on public radio here and often the music is as extraordinary as the traditional music being released on the bigger labels.
Correo Aéreo's second independent release, Lo Que Me Dijo El Viento takes its inspiration from some of Latin America's prominent performers such as, Mercedes Sosa and it features traditional music from Argentina, Venezuela, Peru and Mexico.Abel Rocha who grew up in Mexico City, playing traditional drums, guitar and singing and Madeleine Sosin who grew up in Minneapolis experiencing the life of a violin prodigy met in New Mexico at a flamenco party and formed Correo Aéreo over ten years ago. They relocated to Austin, Texas in 1993 where they recorded Lo Que Me Dijo El Viento. And then the musicians relocated once again, to Seattle in 2001. In 2003, the duo performed at a community concert in New Mexico that also featured journalist Amy Goodman of Democracy Now and they contributed a their song, La Pena Huasteca to Alan Parker's film, The Life of David Gale, which starred Kevin Spacey, Kate Winslet and Laura Linnea. Correo Aéreo's Fiesta Llanera appears on the compilation, Music from Coffee Land II released by Putumayo.
Lo Que Me Dijo El Viento (What the Wind Told Me), brings together various musical traditions as well as, an array of instruments including, harp, guitar, cuatro, quinta huapanguera, bombo (a popular South American drum), cajon, quijada, violin, stand-up and electric bass. Some of the album's highlights include the effervescent, Al Son de la Tambora, the traditional Mexican ballad, La Llorona,
the traditional Argentine Recuerdos de Salta and other musical beauties.
Overall, the musicians favor a lush arrangement of string and percussive instruments topped with Abel's falsetto vocals (often found in Mexican folk traditions) and Madeleine's silky vocals.
Correo Aéreo brings much needed sunshine to Seattle and a peaceful collection of songs to the remainder of the world.