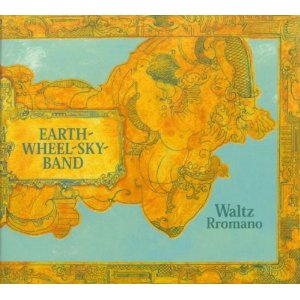 Earth Wheel Sky Band
Waltz Rromano (Asphalt Tango Records, CD ATR 0303, 2003)
The recently-created Asphalt Tango label made an impressive double splash last year with their Besh o Drom and Jony Iliev releases. Their Gypsy/Balkan focus is still fresh, as these wild and wonderful songs by Serbia's Earth Wheel Sky Band show. Gypsy music has no problem turning up the heat in its bigger, brassier incarnations, but the stripped-down format heard here is incendiary as well.
Guitarist, vocalist, composer, activist and Boris Kovac sideman Olah Vince is joined by a standup bassist, violinist, cymbalom player and percussionist to create music so jauntily rousing that the slower moments (like the sweet "Music Rroman") make you marvel at the group's versatility.
Let's be clear, though. Most of this is intended to get your blood racing, and it succeeds like nobody's business. The kicker is that even at breakneck tempos, the pure beauty of the music shines through as the feel moves easily from ominous to evocative to lamenting to party-hearty. Hammered cymbalom
strings form the backbone of melodic mood, creating a rich gumbo alongside the bass and galloping dumbek drum with guitar, violin and recurring vocal exhortations circling the action.
"Listen to this music, dance, shout, be Gypsy, be free" is the advice the liner notes give, and by golly, you can't think of a reason not to. The singular free spirit that Gypsies seem to embody is set to music on this disc, captured for all to enjoy.
Buy Waltz Rromano.
Author:
Tom Orr
Tom Orr is a California-based writer whose talent and mental stability are of an equally questionable nature. His hobbies include ignoring trends, striking dramatic poses in front of his ever-tolerant wife and watching helplessly as his kids surpass him in all desirable traits.