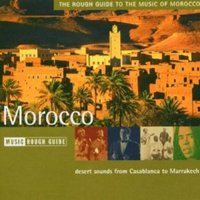 Various Artists – The Rough Guide to the Music of Morocco (World Music Network, RGNET 1128 CD, 2004)
Malouma – Dunya
(Marabi Productions 46806.2, 2003)
Closely following their Rough Guide spotlighting Egypt, World Music Network now crosses the Maghreb to give Morocco a likewise hearty once-over. Morocco is where northern Africa meets southern Europe- not only in a literal geographical sense, but via centuries of artistic and cultural exchanging. Though a
foundation of Berber indigenousness remains ever strong, Morocco's music also benefits from the riches of Arabic, Jewish, Spanish and other influences. Those riches are evident in all 71 minutes of the disc, from fusionists Nass
Marrakech (who manage to seamlessly fuse Brazilian percussion and Bulgarian fiddle with Gnawa trance music) to the rebel mysticism ofNass El Ghiwane and the almost dangerously hypnotic percussion-and-voices
offering by Bnet
Marrakech.
The obligatory rap-flavored track by U-Cef and Dar Gnawa has an odd but effective sense of time and space, but most of the tracks emphasize traditional over modern. A wise approach, considering how profound an impact events like the 1492 expulsion of Muslims and Jews from Spain have had on Moroccan music. (The liner notes, always very informational in the Rough Guide series, go into greater detail on such things.) While a truly exhaustive musical overview of Morocco would be the stuff of multiple volumes, the condensed look this cd brings will both bliss you out and prime you for further exploration. Recommended.
Not far south of Morocco lies Mauritania. There's not a lot of Mauritanian music readily available, though the work of such artists as Dimi Mint Abba, Sedoum Ehl Aida and Aicha Bint Chighaly has seeped out here and there. Malouma Mint Moktar Ould Meidah (who thankfully goes simply by Malouma) is a Mauritanian woman whose grinning countenance on the cover of her album Dunya seems both shy and enticing.
At first glance you feel as though some very special music must lie within, and as it turns out, it does. Throughout these songs you'll hear the same sort of African blues shuffle prominent in the sounds of neighboring Mali, percussion not unlike that which propels music of the Senegambian regions and
the recurring use of an instrument called an ardin, which sounds and looks like the Mauritanian equivalent of the kora. In other words, those who know and love west African music will find much to love here.
So what sets it apart? Well, the pop touches are integrated well- electric guitar solos are curtailed at the right moment, modern keyboards stay in the background, etc. And then there's Malouma's voice. It's an imperfect one, and she does not have the same reach as many notable African divas. But that's what I like about it. Whether she's belting it out punchy and direct, intensely overlapping with her backup singers or wailing in classic Islamic-rooted style, she sounds unfailingly real and sincere. And since she's the composer and/or lyricist of much of the material, the reality that she's singing from the heart is that much more apparent.
Dunya is just plain great contemporary African music. Recorded in the Mauritanian capital of Nuakchott and mixed in Paris, it achieves that right blend of tradition and cutting edge and makes it sing.
Author:
Tom Orr
Tom Orr is a California-based writer whose talent and mental stability are of an equally questionable nature. His hobbies include ignoring trends, striking dramatic poses in front of his ever-tolerant wife and watching helplessly as his kids surpass him in all desirable traits.