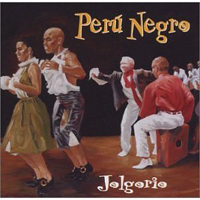 Peru Negro – Jolgorio (Times Square Records TSQ-CD-9035, 2003)
Olga Milla – Caricia (Olga Milla OM120256CD, 1996)
The extent to which Africa played a role in Peru's musical roots has only in recent years become apparent to the rest of the world. Susana Baca is Afro-Peruvian music's most widely known performer, but as the Luaka Bop compilation The Soul of Black Peru, Afro-Peruvian Classics in 1995 and 2002's The Rough Guide to Afro Peru (World Music Network) showed, she's far from the only one.
Peru Negro have been around since 1969 and initially found favor through a military government concerned with preserving genuine Peruvian culture. The heartbeat of Peru Negro's music is the cajón, a wooden box drum with origins that date back to when slaves were forbidden to possess conventional drums and made due with what they had.Original Peru Negro leader Ronaldo Campos was a cajón player with a fondness for rhythms specifically African, later incorporating Afro-Cuban percussion into the group's mix.
The popularity they enjoyed during their first decade ended with the Maoist shakeup of 1980, though they continued performing for tourists in restaurants and nightspots. Because of their on-again, off-again fortunes they've only managed to make four albums in their 35-year existence. One of these was 2001's Sangre de un Don (World Connection/Times Square Records), which helped bolster the current interest in Afro-Peruvian music. That disc was a feast of guitars, bass, conversant percussion and vocals that combined Spanish lilt with African call-and-response. As good as it was, Jolgoriois even better.
Voices and instrumentation are richer, more rousing, more emotion-drenched. The intricacy and tightness of the percussion grabs hold first, urging the guitars and voices to ever-higher heights that bring most of the songs to climactic endings radiant with inspired heat. Dance has always been an integral part of a Peru Negro performance, with choreographed moves meant to represent everything from the concerns of day-to-day life to mocking the colonial slave masters. Listening to the music without the visuals is abundantly delightful though, and you may well find yourself coming up with some creative moves of your own. Above all, there's a sense of remarkably undaunted spirit in these crisp, shifting rhythms and strutting melodies. It's music that feels as though many years of historical circumstance and celebratory defiance have brought it to where it is today, and you'll feel blessed that it came along.
While I'm on the subject, I must mention a disc that's been around for eight years but only recently came my way. Olga Milla was on that Rough Guide mentioned earlier, and while her sound isn't full of the same fiercely layered percussion and blistering ensemble energy as Peru Negro, her album Caricia("Caress") is a soothing, quietly intense selection of ballads and traditional songs that uphold the Afro-Peruvian perspective on a smaller but no less genuine scale. Good for cooling down after listening to the Peru Negro CD.
Author:
Tom Orr
Tom Orr is a California-based writer whose talent and mental stability are of an equally questionable nature. His hobbies include ignoring trends, striking dramatic poses in front of his ever-tolerant wife and watching helplessly as his kids surpass him in all desirable traits.