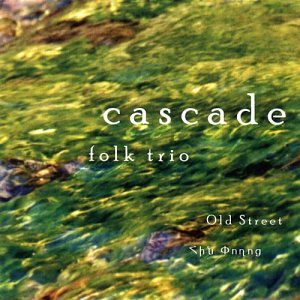 Cascade Folk Trio
Old Street (Bandaz Records BZ 2764, 2003)
Before this disc came along, I didn't have much in the way of music from Armenia. In fact, on giving the matter further thought, I'm inclined to think I didn't have any. And since it's a nice piece of work, I'm glad to have it not simply as padding for my world music collection but for the much more important concern of listening pleasure.
Armenia, a small country south of the Caspian and Black Seas near to where Europe and Asia meet, has a history as both a kingdom and a Soviet republic. That history has been troubled at times, particularly the genocidal actions of the Ottoman Turks against the Armenian people during World War One. It's definitely modern music we're treated to on Cascade Folk Trio's Old Street, so the overall feel isn't as "folk" as you may think. Nonetheless, the use of programmed rhythms and studio polish isn't overly intrusive, letting the more specifically Armenian elements, including abundant dhol drums and double-reed duduk, provide the real kick. So delight in the way the opening "Gentle Boy, Graceful Girl" alternates bursts of traditional sound with choppy jazz phrases or the bright funk of "Wipe the Tears From My Eyes," because there's also songs here that don't focus so much on fusion. And delight in the vocals too, because the name above the title refers to the three singers whose pipes bring it all together.
The lead singing is divided pretty evenly between a guy named Arman Aghajanyan and a gal called Ohanna Mtghyan. Their versatility, coupled with the varied exotic spark of the arrangements, can make you feel as though you're listening to rai, Gypsy music or French cabaret, though the lamenting nature of many of the songs (evidenced by some translated lyrics in the liner notes and probably reflective of that troubled history mentioned earlier) will tug on new and different sets of heartstrings. Recorded in both Armenia and the U.S., the line this album walks is a fine one. It's ultimately quite a good listen and leads me to believe that I must be missing out on a lot by not paying closer attention to the Armenian music scene.