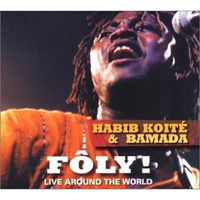 Habib Koité and Bamada
Foly! Live Around the World (World Village 468021, 2003)
A live album by Habib
Koité? Great idea. Making it a two-disc set? Even better. I saw Koité and his band Bamada in an outdoor concert on a summer night in Los Angeles a few years back, and there didn't seem to be one person in the sizable crowd who wasn't swaying to the sound. Koité was born into a musical family in the very musical country of Senegal and has lived most of his life in another very musical country, Mali.
Mali is arguably home to more great guitarists (Ali Farka Toure, Boubacar Traore, Djelimady Tounkara, etc.) than any other African nation, though it's not
merely by geographical association that Koité is to be counted among them. His mastery of the acoustic guitar stems from how he brings shades of various playing styles and edifies them with a west African vibe in which every element feels right at home. Be it sounds of the Iberian Peninsula, the Arabic world or
transplanted blues, Koité never falters. His three studio albums–Muso Ko
(originally released in the U.S. by Alula Records and presently available on the
World Village label), Ma Ya and Baro (both widely released via
Putumayo)–show a growth of artistry and scope while retaining authenticity and
soul.
Foly! Live Around the World isn't exactly what the title states- it was recorded in several European cities during 2001 and 2002. But Koité's music does
indeed sound like it could move an audience anywhere. Each of the two discs is over 70 minutes long, giving Koité and Bamada ample time and space to stretch the songs into splendid jam sessions where layers of guitars, bala (played by the revered Keletigui Diabate), bass, drumset and percussion resound with wild
abandon and focused tightness.
The faster songs cook like Senegalese m'balax or Africanized flamenco, the slower ones allow Koité some expressive moments as a singer while still emphasizing the richness of the groove, and there's not a dull or false moment to be heard. Koité's best tunes are all here, including a stunning "Fatma" (love those ululations), a nervously beautiful "Sin Djen Djen," the familiarly cocky "Cigarette Abana" and "Bitile" done lean and slinky.
Even if you have Koité's previous albums, the way these songs are sent soaring into the African music
stratosphere simply must be heard. Very highly recommended.
Author:
Tom Orr
Tom Orr is a California-based writer whose talent and mental stability are of an equally questionable nature. His hobbies include ignoring trends, striking dramatic poses in front of his ever-tolerant wife and watching helplessly as his kids surpass him in all desirable traits.