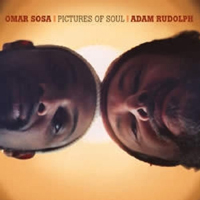 San Francisco, USA – Pictures of Soul is an improvised music collaboration between Cuban pianist Omar Sosa and Los Angeles-based percussionist Adam Rudolph. These two creative musicians have enjoyed each other's work at a distance for several years. Both share an appreciation of ritual trance music – music that lead the listener into altered states of consciousness.
In April of 2002, when Sosa and his Septet arrived in Los Angeles for a run at the Jazz Bakery, it was possible for these kindred spirits to meet and make music together. The result is Pictures of Soul, a poignant aural journey into the transcendent realms of the creative music process.
Sosa and Rudolph both experience their art as an interactive spiritual voyage. Their approach in the studio called simply for an openness to explore musical landscapes together – without charts, without rehearsal. In Pictures of Soul Sosa plays mostly acoustic piano, both on the keys and inside the instrument.
Rudolph is featured on an array of hand drums, including jembe, tarija, dumbek and tabla.Sosa has released ten recordings on the Otá label since 1997, including 2002's Pictures of Soul. He performed recently with his Octet at the opening of Carnegie Hall's new Zankel Hall, about which Alex Ross of The New Yorker remarked that Sosa has "a ferocious flair for rhythm and a keen musical wit". Composer John Adams, who curated the opening of Carnegie Hall's new venue, commented that "Sosa is a deeply creative musician with an extraordinary harmonic sense. His piano playing is sui generis: It has obvious roots in Cuban music, but he's taken his approach to the keyboard into completely new regions."
Mr. Rudolph, a native of Chicago, is known as one of the early innovators in what is now called "World Music." In 1977 he co-founded The Mandingo Griot Society with Gambian musician
Foday Musa Suso, one of the first bands to combine African and American music. In 1988, he recorded the first fusion of American and Gnawa music with Moroccan sintir player and vocalist Hassan Hakmoun and jazz trumpet great Don Cherry. In the same year, Rudolph began his association with the legendary Yusef Lateef. He currently leads his own ensemble, Go: Organic Orchestra.