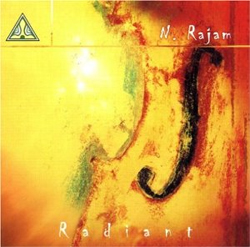 N. Rajam
Radiant (Sense World Music, 2002)
It isn't often that I am able to review a woman classical Indian musician so I am quite pleased to share violinist N. Rajam's Radiant  CD with you. I read in Rough Guides World Music (volume 2) that Indian women are not given the same musical opportunities as Indian men. While male musicians attend the various gharanas and have access to masters of various traditional instruments, their women counterparts are not given the same opportunities and usually study traditional singing. And in Southern India, women do study violin. However, the violin didn't take the role of a solo instrument in India, until after the 1960's when N. Rajam arrived on the scene.
She is responsible for introducing the Gayaki ang vocal style to the instrument. And you can hear N.
Rajam's violin sing in a vocal style on this CD. In fact, it is uncanny how the slides and runs resemble the human voice, especially that of the Hindustani vocal traditions.N. Rajam hails from Southern India and her family boasts generations of talented violinists, including her brother T N Krishnan. She inherited her technique from her father Sr. Narayana Iyer who encouraged his daughter to
incorporate vocal music and the ancient veena into her playing.
Later, N Rajam would seek training in Benares, located on the banks of the Ganges River where she was tutored by the legendary singer, Omkarnath Thakur for 15 years. This intense vocal training would surface later in Rajam's violin performances. She has incorporated various vocal styles into her playing including, khayal, thumri, tappa and bhajan. And her seamless performance makes a difficult task seem effortless. Her violin shudders, quavers and converses with itself while instilling longing and other moods into complex melodies. She alternates between slides and runs of a pentatonic or 5 note scale. According to the liner notes playing the pentatonic scale on a violin is a fete in itself. "Technically, it offers a particularly stiff challenge to violinists because it consists of only
five notes, and the gaps between the notes on the neck of the violin are sizable."
Rajam performs the popular evening raga, Malkauns and tabla player Akram Khan provides the beats. The first track, Raga Malkauns starts out slow and eventually builds as it flows into Raga Malkauns (teental). Tracks 2 and 3 allow Akram Khan showcase his improvisational solos. There is some playful exchanges between instruments, but usually Rajam repeats a phrase a few times, while Khan ignites an explosion of beats. Their performance grows in intensity until it reaches a dynamic climax. Meanwhile, Rajam extracts amazing tones from her instrument and she rivals virtuoso violinists of the west. And in fact, she blows me away with her mesmerizing interpretation of the ragas.
Track 4, Raga Khamaj, Thumri moves into contemplative territory and is romantic in nature. Set to a 6 beat cycle, you can hear the violin mourning its broken heart. Next the performers flow into Raga Nilambari (ektaal) and they conclude with the melancholic Raga Bhairavi (an evening raga). And by the end of this recording, I am wondering why I haven't heard of the talented Dr. N. Rajam until now. I look forward to hearing more of her recordings in the future and if I ever get the chance to see her perform in the Seattle, I will jump at the opportunity.
Compliments of Cranky Crow World Music.