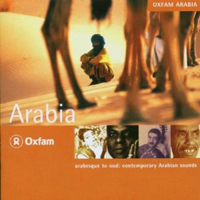 Various Artists – Oxfam Arabia (World Music Network RGNET 1121 CD, 2003)
Various Artists – The Rough Guide to the Music of Egypt (World Music Network RGNET 1114 CD, 2003)
World Music Network's sprawling Rough Guides series has included two previous collections in support of the humanitarian organization Oxfam. They centered on African and Latin music, and were as solid an overview of those genres as any in the mid-priced Rough Guides lineup.
Oxfam provides what's needed most where it's needed most (health care, finances, protection from natural and man-made disasters, preservation of human rights, etc.), and since most folks who listen
to world music are also attuned to world problems, the Oxfam discs are a great way to get your global fix and have a hand in making things better as well.
Oxfam Arabia is 67 minutes of top notch sounds from across North Africa and the Middle East. It's got the diversity you'd expect from such a region, be it classical and traditional pieces, rai, folkloric or fusion. So there's diversity here, from the contemporary sass of Algeria's Abdou to different approaches toward masterful oud playing courtesy of Rabih Abou-Khalil and Naseer Shama, Transglobal Underground's controlled techno frenzy, reggae-like grooves by Sudan's Abdel Gadir Salim and the in-concert zest of Warda Jazairia.
If you hold to the opinion that the Arab world is your enemy, you don't deserve a disc like this. But if you refuse to believe the vile spewing of fanatics on both sides, this music will enrich and delight you in addition to bolstering a worthy cause.
Some of the same artists from the Oxfam disc are also in good form on the The Rough Guide to the Music of Egypt. Modern Egyptian music can't exactly be traced as far back as the pharaohs and pyramids and all that, but it has deep roots anyway, particularly links to pre-Islamic musical poetry. It's only in much more recent times, however, that the Egyptian capital of Cairo has become the center of the Arabic music industry. Influences from all over the Arabic realm and beyond have
found their way into Egypt's music, which as a result can be supremely fanciful or funky. So feel free to be just as seduced by the jabbing rhythms that punctuate the voice of Nugat El Saghira as you are by Ali Hassan Kuban's Nubian tartness, Amr Diab's Iberian leanings or the lush simmering of pieces both grand and simple from such key artists as Hamza El Din and Mahmoud Fadl.
I could go into loads more detail here, but all you really need to know is that this is a deliciously good sampling of essential music from a fascinating place.
Author:
Tom Orr
Tom Orr is a California-based writer whose talent and mental stability are of an equally questionable nature. His hobbies include ignoring trends, striking dramatic poses in front of his ever-tolerant wife and watching helplessly as his kids surpass him in all desirable traits.