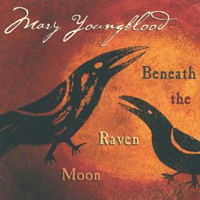 Mary Youngblood
Beneath the Raven Moon (Silver Wave Records)
Mother of four children, Aleut and Seminole Indian, award winning flautist Mary Youngblood offers us her third release on Silver Wave Records, Beneath the Raven Moon. Inspired by the wonderful spirits that have walked with Mary on her journey through life and based on her poem, Beneath the Raven Moon, this CD features an array of styles from blues to traditional to classical in which each song title represents a line in the poem. "Cama-I/ Walk with me/ beneath a raven moon/ and we shall dance/Laugh with me/caress the smile/within my heart/and we can love/dream with me/above the Mother Earth/and we will fly/Ipiluni."
This peaceful music comes at a time when many among us fear the planet's extinction. Yet, when Mary's voice and flute flow through a room, hope also presents itself. Her music is as stunning and haunting as the infamous Native American flutist R. Carlos Nakai, another musician that has successfully blended European and
Native American traditional music. Mary's music differs from Nakai's compositions in that it possesses a feminine edge that travels straight to the womb of Mother Earth. At times her songs hover above us and at other times they soars past us, always spirited, sometimes mirthful and at other times, tranquil.
Similar to her label mates, Joanne Shenandoah and Lawrence Laughing, producer Tom Wasinger comes on board offering his musical talents on a variety of instruments, Beneath the Raven Moon also marks the first CD in which Mary offers her sultry vocal talents. Joanne Shenandoah had enlisted her vocal talents on Youngblood's CD, Heart of the World leading Youngblood on a new direction. Beneath the Raven Moon showcases Mary's multiple gifts and her vocals can be heard on Walk with Me and Caress the Smile.
Walk with Me features bluesy guitar which is seduced by equally bluesy flute. The title song falls into the classical realm with flowing guitar, violin and flute. We Can Love is a beautiful chamber piece in which Youngblood's flute caresses the strings that augment the composition. Two traditional Aluet songs, Piluni and Cama-Igrace the album while adding a timeless sacred quality to Mary's inspired poem
Youngblood dedicated her heartfelt recording to those human beings in which she has loved, "To walk with another human being on life's journey is a courageous endeavor." One might say the same thing about recording and performing music that comes from the soul. And in that respect Mary Youngblood is a courageous musician here to offer us peace through her music.