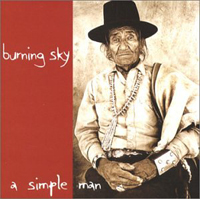 Burning Sky
A Simple Man (Canyon Records)
A Simple Man is Burning Sky's follow-up to their GRAMMY nominated and NAMMY-winner Spirits in the Wind. A Simple Man features the signature folk-rock guitar and haunting flute that can be heard on the duo, Aaron White and Kelvin Mockingbird's previous Burning Sky CDs. This time around bassist/guitarist John Katz joins Navajo-Diné Kelvin (flute) and Aaron (guitar) on this serene and poetic recording.
I suppose poetic is a strange adjective to describe an instrumental recording (lyrics/vocals only appear on the titular track), yet the songs here often conjure up images of coyotes roaming through a desert at dusk. And Kelvin's soaring flute with flutters, trills and breath glides with eagles. The music here might be called pretty by some, haunting by others and certainly it is powerful. I am reminded of R. Carlos Nakai's traditional and Mary Youngblood's bluesy folk recordings (two artists that also appear on this site).
Wisdom's Keepers opens the CD with guitar-picking and serene flute. The song begins a musical dialogue with its human listeners and the natural world (the birds around my home love this music) that continues through the last track.
John Katz brings in an electric guitar on Blood and Faith while also giving the song a folk-rock appeal. The electric guitar comes in again on the guitar piece, Season's End and Hand in Hand. The solo flute track, Twilight in Your Eyes captured my ears with its spellbinding qualities. Land of Lightening possesses a great deal of passion with the musicians letting loose and the titular track with its catchy chorus and guest vocalist, Martha Redbone certainly makes turns heads with its provocative lyrics and upbeat music.
The lyrics ask about future generations in hope that they will survive and transform the current madness that has taken over the planet. "I try to live my life as a simple man–'cause I try to live my life as a peaceful man." And the lyrics are even more fitting as we approach the end of one year and the beginning of another. Listening to soul-centered music can certainly lead us in a healthier direction.
There are many roads that reach the same conclusion. And this includes a variety of music from Tibet, India, China, the African continent, the Americas and other parts of the world. In the end, peace comes from within, yet it doesn't hurt to connect with musicians that exude serenity. In fact, if enough of us find each other through this music, we can calm the beast in us.
Buy A Simple Man
Compliments of Cranky Crow World Music