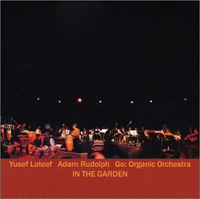 New Jersey, USA – Artistic director Adam Rudolph reunites with his longtime collaborator and mentor Yusef Lateef in the live 2-cd concert recording In the Garden, performed by the Go: Organic Orchestra, jointly released on the artists' own Meta and Yal labels (distribution by City Hall & North Country). Since 1988, hand percussion innovator Adam Rudolph and the legendary multi reed master Dr. Yusef Lateef (ex-Dizzy Gillespie/ Charles Mingus/ Cannonball Adderly) have developed a process of composing collaboratively, and have recorded 12 albums together.
Their long history of exploring and creating innovative means of composing together fully ripens in In the Garden, the third concert recording of Adam Rudolph's Go: Organic Orchestra.In the Garden was recorded live in concert on March 1 & 2 of 2003 at the Electric Lodge in Venice, California. Rudolph improvisationally conducts the 22-member Go: Organic Orchestra, utilizing themes and cues which he and Lateef composed. This large woodwind and percussion ensemble includes elder master artists Bennie Maupin, Alex Cline, Munyungo Jackson and Ralph Jones, as well as musicians from classical, improvising and world music backgrounds. Percussion and woodwind instruments from around the world are orchestrated with Western clarinets, flutes and saxophones. In the Garden was created using unique compositional approaches including Rudolph's concept of "Cyclic Verticalism," and Lateef's concepts of "Clustonics" and triple diminished and hexatonic scales. The pieces were composed with traditional Western notation as well as graphic scores and grids, and conducted with a series of hand signals developed by Rudolph.
"Nanna" is an improvised duet with Rudolph on handrumset and Lateef on tenor sax. "Morphic Resonance" features a viola/ flute/ percussion quartet composed by Lateef, alongside a flute quintet and a viola solo composed by Rudolph, which contextualize improvisational solos by Yusef Lateef on flute and Bennie Maupin on bass clarinet. The theme to "Lobelia, Euphorbia, Rock" was composed by Rudolph; it has a melody for three clarinets and a flute composed by Lateef; and it features solos by Bennie Maupin (bass clarinet), David Philipson (North Indian bansuri flute) and Pablo Calogero (bass flute). The eleven minute "Amanita," composed and performed by Rudolph in a 63 beat rhythm cycle, features solos by Lateef on flutes & tenor sax.
Unprecedented and uncategorizable, the music on In the Garden draws from sophisticated 20th century European compositional techniques, as well as African and Asian scales and instruments. These enchanting sonic environments are rooted in the creative American improvisational tradition, which Dr. Lateef has termed "autophysiopsychic," meaning music which derives from the physical, spiritual and mental self. This ambitious and powerful project achieves an extraordinary freedom and unity, brought about through discipline and diversity.
Collaborations of Yusef Lateef & Adam Rudolph have fascinated and delighted audiences throughout North America and Europe with performances at the Northsea, San Francisco and Montreal Jazz Festivals. "Double Concerto" premiered at Symphony Space in New York City in 1988 with the Eternal Wind ensemble. "Double Concerto #2," for 20 musicians, was performed at the California Institute of the Arts in 1989. "The World at Peace," for 12 musicians, was commissioned in 1995 with a grant from the Meet the Composer/ Rockefeller Foundation/ AT&T Program in partnership with the National Endowment of the Arts. "Beyond the Sky," for 8 musicians, premiered in 2000 at Lincoln Center in New York in honor of Dr. Lateef's 60 years of performing.
Author:
World Music Central News Department
World music news from the editors at World Music Central