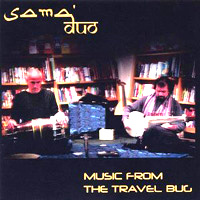 Oudist, guitarist, and improvisor Mustafa Stefan Dill announces the relaunch of the Norumba Records label with two releases: the solo ud/flamenco guitar Six Peaces CD and a re-release of the Mustafa Stefan Dill Trio CD Run For Heaven, previously on Falcata –Galia Records. Co-release arrangements with Falcata-Galia and Norumba will be finalized in 2004.
Supporting the relaunch is a newly redesigned website at http://www.norumba.com with available secure online ordering for the releases as well the earlier Norumba release Sangre Del Rio and other products. The site contains audio
samples, photos, reviews, writings, new project descriptions and more.Six Peaces is an acoustic solo CD with an interfaith, hopeful message, focusing on Dill's recent oud work, consisting of improvisations based on Middle Eastern maqams. The opening and closing pieces feature Dill on both ud and flamenco guitar in a series of exchanges, exploring the close relationship
between flamenco and Middle Eastern musics.
While a few touches of extended modern technique appear, Six Peaces is perhaps Dill's most accessible work to date, maintaining a traditional tonal foundation with heartfelt and passionate playing.
Review and airplay copies can be provided on request – and are already receiving favorable reviews. 
Other projects for both live and recording development for 2004 (detailed descriptions and audio samples are on the site):
Duo with Ramón López. Recorded in Paris, November 2003, this duo teams Dill with percussionist Ramón López, perhaps the only other artist exploring links between flamenco and free improvisation. A strong meeting of kindred musical paths. Expected release date: early 2004. Tour dates for USA/Europe 2004 are being arranged, please contact.
Sama The latest project, melding aspects of traditional music Middle eastern music and Sufi chant, free improvisation, Sufi singing, and electronica d'n'b grooves. Tapped for this project is Jeremy Bleich, bassist of Cleveland –based Birth. The project will assemble and develop material in the Spring, with an expected release date of fall 2004.
Love Unfold The Sun A quartet version of trio, with the addition of Dan Pearlman on trumpet. Slightly jazzier, more groove based. Expected release date: spring 2004
Biography
Stefan Dill 's guitar work has long been recognized for its innovation and intensity, first spotted by Guitar Player magazine in 1988 as " a maniacal tour de force of outside extremism". He received a Masters in composition at New England Conservatory, studying with Joe Maneri. Returning to his native New Mexico, he developed the unique solo acoustic vocabulary for which he is best known, exploring bridges between abstract free improvisation and pre-1960 flamenco in a solo setting. In this context, he has performed solo concerts at such venues and festivals as the FMP Total Music Meeting ( Berlin 1994), Zuid NederlandsJazz Festival (Eindhoven 1995), Nickelsdorf concert season (1995, 1998), International Guitar Festival of Great Britain ( Wirral 1997), Paderborn Gitarrenfest ( Paderborn 1998), V Festival Hispanoamericano de Guitarra (Tijuana, 1998) and many others.
He has also released two solo CDs:Warning Clothed in Bright Robes of Dawn (Centaur 2222) in 1994, recorded live at The Outpost, followed by Sangre Del Rio in early 1998, reflecting a deeper flamenco involvement. In 2000, Zerx records released Flower and Song, a collection of improvised duos with various partners, with Dill on electric and acoustic guitars.
Artist/Label contact: http://www.norumba.com
Author:
Bernardo Leandro1