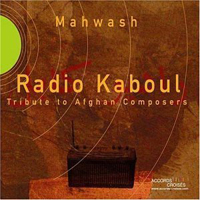 Ensemble Kaboul
Radio Kaboul(Accords Croises ACC 100, 2003)
By the time the Taliban completely criminalized popular music by deciding it was an abomination before God, many of Afghanistan's musicians were already living in exile or biding their time in other ways. With the music scene in Afghanistan currently undergoing a cautious resurgence from almost total ruin, an album like this one is not only a thing of great beauty but a testament to how necessary music is, no matter how fanatical the forces that try to suppress it.
Radio Kaboul pays tribute to the radio station of the same name, which from its beginnings in the 1940's was essential in making music an ever more integral part of Afghan daily life. Through the advent of radio amateur musicians were able to turn professional, women singers achieved a previously unheard-of level of respect, and people divided by ethnic differences found common ground via music.
The fundamentalist brutality of the mujahedin and the Taliban crushed all that, though the spirit of the music lived on. Thankfully so, since the music of Afghanistan is a melding of Persian, Indian and Central Asian influences that gets you under its spell in nothing flat. Guided by the direction of rubab (lute) player Khaled Arman, Geneva-based Ensemble Kaboul showcases some of the richest violin, flute, harmonium, tabla and zirbaghali (goblet drum) playing you'll ever hear, along with the vocals of Mahwash, who began her ascent to being the leading female Afghan singer in the '60s.
The songs include many that have been well-loved in Afghanistan and the surrounding regions for decades, invoking happier times and hope for the future. It's of particular significance that there's a strong Sufi vibe in much of the musical content, what with the Sufi belief in music as a form of worship being
directly opposed to militant Islam's misguided view that it is anything but. One listen to this gorgeous CD will reaffirm that deciding in favor of music is about as right as a choice can get.
Buy Radio Kaboul.
Author:
Tom Orr
Tom Orr is a California-based writer whose talent and mental stability are of an equally questionable nature. His hobbies include ignoring trends, striking dramatic poses in front of his ever-tolerant wife and watching helplessly as his kids surpass him in all desirable traits.