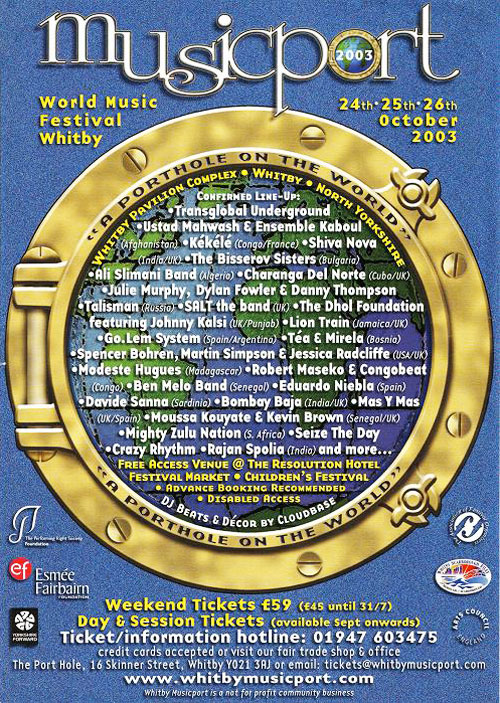 A sold-out annual world music festival with 40+ bands and artists appearing over one weekend, in its fourth year of operation, but few outside of north-east England seem to have heard of Whitby Musicport. Why?
On England's North Sea coast, nestled in a dramatic cleft between two high cliffs, Whitby's long natural harbour is watched over from the south by the gaunt ruins of the town's 7th century Abbey. Across in the park above West Cliff, Captain Cook's statue gazes seaward and grows white-haired with seagull guano.
Just below squats Whitby Spa Theatre & Pavilion, the principle venue for this weekend's activities. The unprepossessing red-brick and glass structure is thoughtfully hidden away from the view of all but returning trawlermen and day-trippers.Whitby is a warm, welcoming town, jammed to the gills with tourists in high
Summer.
When I last visited, to see Cuban singer Yusa, in April this year, this quintessential fishing port was host to a different kind of festival. Every shop, pub & restaurant carried the sign 'Whitby welcomes goths'. Must be a Dracula thing. Now it's late October and the return of the dread British Winter Time, the town draws in another group of specialist music enthusiasts, all flapping cotton and pink extremities in the bracing onshore breeze. It's interesting to
note that there is a coterie of festival-goers who camp for the weekend, although with facilities away on the edge of town, and an arse-biting north-easterly, it feels good to be ensconced in a nearby hotel.
Within the blank interior of the municipal entertainment complex, softened by Cloudbase's many-hued fabric surroundings and moving-image focal points, Friday evening kicks into gear when Bombay Baja strike up with their boisterous, swaggering, Bollywood brass band sound. All set for the weekend, then.
There's food on sale here, too. Not your hatch-served microwave burgers, but three fine stalls dispensing a rich variety of ethnic & veggie foods. Even the Pavilion café, after representations from festival-goers last year, is serving Fair Trade coffee. Supper over, and a fine & moving performance by ex-pat Russian Gypsy outfit Talisman leads to the evening's main course. "Hallo Weeeetby!". The Spanish/Argentinian band with close links to Manu Chao have just
released their debut CD 'Viaje'. On this one-off visit from Barcelona (for the band's first-ever UK gig), GoLem System squeeze out a tight, springy, bouncy sound with a dub/latin/reggae base which is just irresistible. Yummy.
Whilst The Pavilion is the main focus of Musicport, The Resolution (a fine pub down in the old town) draws a large audience to its upstairs room with acoustic stage. It's one of the regular year-round venues which the Musicport team use, and will soon become the base of their operations, thanks to a generous £26,000 Arts Council Yorkshire grant, which is to be spent on installing a state-of-the-art
sound & lighting rig. For Musicport weekend, entry to this venue is free-to-all.
Many of the visiting artists appear on the Resolution stage and also get involved in the workshops which run throughout the day on Saturday & Sunday.
Children's workshops abound, and a variety of activities take place in the Pavilion as well as the neighbouring Intermission Café and Royal Hotel.
Back at The Pavilion, Saturday is in full swing. For an inveterate festival butterfly like me the fact that Musicport has the one main stage is a godsend, I'm not constantly flitting from one stage to another, desperately trying to miss nothing, thereby missing much. Aside from one trip to the comfortable little theatre stage, to see Julie Murphy perform her outstanding updated Welsh
traditional music with the help of ace acoustic guitarist Dylan Fowler & the inimitable Danny Thompson on double bass, I'm firmly fixed in the main hall.
This year's innovation of a smaller stage alongside the main stage, featuring acoustic performers whilst the main stage changes sets, works exceedingly well.
Throughout the afternoon, from the Bosnian Gypsy group led by sisters Téa & Mirela (formerly Szapora), to a moving & riveting acoustic performance from American slide specialist Spencer Bohren & English blues guitar maestro Martin Simpson, there is a sense of growing anticipation.
An atmosphere of respect and awe heralds the arrival of Ustad Mahwash and her accompanying Ensemble Kaboul. The gentle, all-enveloping sound of their Afghan classical music begins to build, bringing in bowed, plucked & struck strings, harmonium, woodwind and percussion. As she sits, swathed in a heavy rug wrap, the musicians at her feet, Mahwash looks small and unremarkable, a friendly-looking middle-aged lady. It's when she sings that the audience's attention is drawn and held by this singer's stately and magical performance. An hour in the company of this award-winning troupe goes by in an instant and we're left, slack-jawed and
fancying supper.
A brief but violent evening thunderstorm rushes past, to leave the setting sun raking over the cliff-top, creating a warm red haze on the horizon, as a high tide rages spectacularly against the sea wall below. In the main hall the ever-effervescent Ali Slimani, easily the best raï singer/dj this side of the Channel, is mashing up the dancefloor. Folk Devils record stall is doing brisk business with his latest album, 'Espoir'. Tonight happens to be the first time I've seen Transglobal Underground, despite having been a fan for eons. Sadly, they're here
without Natacha Atlas on vocal. But Transglobal's stage show is legendary, with a mélange of world music genres hurled into the band's boiling melting pot, bubbling over with infectious dance beats. We trip on into the early morning with a dreamy late night session from Cloudbase. Not to worry, the clocks go back tonight, there's an extra hour in bed.
Sunday morning, and a wickedly persistent north-easterly sends churchgoers scuttling. Not the sort of weather for hanging around on the streets of a Yorkshire coastal resort. The festival shuffle stirs into life, delivering huddled masses to the various venues for a daytime schedule of folk & traditional music.
With a multiplicity of workshops there's plenty to see & do and by five'o'clock it's already dark outside. Thank goodness for Kékélé, here to brighten one of the gloomiest days on the calendar with their effortless Congolese acoustic sounds. This is the band's second trip to Musicport in two years and they're fast becoming local favourites. The children's Lantern Parade, heralding long nights ahead, is an atmospheric and fitting close to the audience-participatory activities and leads us nicely into the final session with talented new British singer/songwriter Virginia McNaughton. Penultimate on the 2003 bill is one of Congolese music's brightest new stars, Robert Maseko. His Congobeat play the best kind of classic rumba/soukous. The band know exactly how to pace their
music and they've immediately got a willing crowd in their collective palm. The weekend climaxes with a memorable gig from the rip-roaring Dhol Foundation, tonight with the added delight of dancers showing those with energy reserves how it should be done.
Driving back across the moonless moorland it's time to reflect on the weekend. Although different from its summertime counterparts, Musicport has a wonderful atmosphere and is building a great reputation which lacks media coverage mainly because the event always coincides with the annual world music business seminar
& showcase WOMEX, which inevitably draws media & artists away. The solution? How about a mid-late September scheduling for Musicport? It's just that I can't help thinking about those poor campers.
Dave Atkin, November 3rd 2003
Whitby Musicport annual world music festival is a not-for-profit volunteer-run organisation. Thanks to the sheer hard work of a dedicated team led by Jim McLoughlin the near impossible is pulled off with considerable aplomb. With six stages & workshop venues, 40+ artists, a host of stewards and helpers, the margin for error is broad. Congratulations to Jim & crew. To quote the Governor
of California: "I'll be back….".
Artists appearing at Whitby Musicport 2003 were as follows:
Transglobal Underground, Ustad Mahwash & Ensemble Kaboul, Kékélé, Ali Slimani Band, Julie Murphy with Dylan Fowler & Danny Thompson, Charanga del Norte, Talisman (formerly Loyko), SALT the band, The Dhol Foundation featuring Johnny Kalsi, Lion Train, GoLem System, Spencer Bohren & Martin Simpson, Téa & Mirela (formerly Szapora), Modeste Hugues, Robert Maseko & Congobeat, Davide Sanna, Bombay Baja, Mas Y Mas, Josephine Oniyama, Eduardo Niebla, Saaz, Tuup, Martin Fletcher, Samba do Porto, Nick Burman & Dordiseal, Encuentra Latino Salsa Workshop, Nkosana,
Mighty Zulu Nation, Mambo Jambo, Seize The Day, Shiva Nova, Ben Melo Band, Hot Ashes, Banoffi, Virginia McNaughton, Kwame D, Streetworthy, Cal Williams, Piffko, Nick Hall, Dark Horse, Paul Marshall, Seikou Susso, Elaine Palmer, Tuesday Sometimes, Dan Webster Band.