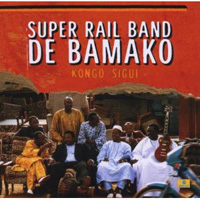 Super Rail Band De Bamako
Kongo Sigui (Label Bleu/Indigo 2581, 2003)
Recent times have seen the resurgence of longstanding African bands Bembeya Jazz from Guinea and Senegal's Orchestra Baobab. Mali's Super Rail Band (so named because they started as the in-house band at the hotel adjacent to the train station in the Malian capital of Bamako) have been together for 30-plus years and are presently enjoying similar well-deserved renewed interest. From their inception they sought to respectfully modernize the musical traditions of west Africa's Manding people, benefiting from having their ranks include both Salif Keita and Mory Kante in the lead singer role. Those two are long gone, but another key architect in the Super Rail sound, guitarist Djelimady Tounkara, remains.
Tounkara's superb electric playing has always managed to replicate the tone and feel of Manding acoustic instruments in a contemporary context, and the band's embracing of varied Afro-pop elements melded with a blues/rock edge completed the picture.
The last couple of Super Rail Band albums sweetened the basic guitars/bass/drums/percussion/voices lineup with keyboards and horns, but those are done away with on Kongo Sigui. The group also hearkens back to their roots with the use of kora (21-stringed harp/lute) on the album. The result is a recording which, in sound and spirit, conjures up the raw power of their live performances while showing how bountifully their creative juices continue to flow. Throbbing percussion and an assertive groove fuel the leadoff track, "Mogo Gnaye Kodola," laying the groundwork for slow-burning stunners (such as the title track and "Sory") as well as tunes that start off soaring and stay there ("Dion Mansa," "Pirates").
There's also some lovely female harmonies complimenting the soulful wail of the lead vocals, doses of
Latin bounce here and there, and Tounkara's ever-nimble guitar not only frequently stealing the show, but accentuating the skilled greatness of the whole ensemble. As enjoyable as some of the discs in Super Rail Band's long and distinguished career have been, this trumps many of them and stands as one of
their absolute best.
Author:
Tom Orr
Tom Orr is a California-based writer whose talent and mental stability are of an equally questionable nature. His hobbies include ignoring trends, striking dramatic poses in front of his ever-tolerant wife and watching helplessly as his kids surpass him in all desirable traits.