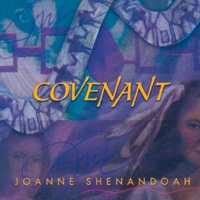 Joanne Shenandoah
Covenant (Silver Wave Records)
Celebrated Iroquois composer and diva Joanne Shenandoah boldly steps into dance-trance territory on her latest recording, Covenant. Her 6th release on Silver Wave Records (she's also has albums out on other labels) forges a new path for Ms Shenandoah that still within stone throwing distance of her previous work. Similar to her other recordings, the songs on Covenant speak about peace and Iroquois prophecies as well as, the Native American bond with Mother Nature.
The songs still fall into ambient territory, featuring Iroquois chants. However, this time around, Shenandoah with the help her co-producer Jim Wilson, have created a tapestry of slow tribal grooves. The usual ambient keyboard with reverberated percussion makes an appearance along with cello and flute with an added dimension of spoken word prayer performed by Chief Jake Swamp-Tekaronianekon of the Mohawk Nation on the opening track, Giving Thanks.
Circle starts off with a howling wolf that is later embellished with tribal beats and programming. The song reflects on the honorable role women perform in Iroquois society. "When the women dance, they form a circle around the drum; they move with the earth, counter clockwise, their feet caressing the Mother as they shuffle to one of hundreds of verses sung in their honor." Prepare Yourself focuses on the Iroquois prophecy that destruction will come to the earth if we do not take better care of it and preserve it for future generations.
100 Winters with its haunting flute, percussion and Joanne's silky vocals honors Chief Shenandoah who died in 1886 at 110 years of age. The song also tells the story of how the Oneidas were disbursed to different regions in the Midwest and the prophecy tells of a time when the Oneidas will reunite. Tell Me Your Dreams offers a trance track that starts out as an instrumental with male ghostly Indian chants in the background and flute, then Joanne augments the song with gorgeous vocals. Her Dance (Kaluhyanu: Wes from the Matriarch CD) received a musical facelift with bass drums and trance-dance treatment. The song honors the life-givers and clanmothers.
Many musical artists have produced tribal groove and trance recordings in the name of peace. Joanne Shenandoah lives a life in which she practices the tenets of peace and compassion. She reveres tribal traditions and this comes through in her recordings. Some listeners might find her too "new age" or lament that she doesn't sing the tribal chants the way they were intended to be sung. However, the Iroquois songtress has garnered a large following and so she is able to get her message out to tribal and non-tribal individuals. And in the meantime, her music provides a safe haven from the chaotic world and her CD liner notes inform us of how to live in balance with the earth. And hopefully, her tireless efforts will prevent us from destroying the planet.
Visit World Music Central's Joanne Shenandoah profile, www.silverwave.com,
www.oneidasfordemocracy.org and
www.mohawknation.org.
Author:
PatriciaHerlevi
Patricia Herlevi is a former music journalist turned music researcher. She is especially interested in raising music consciousness. She is looking for an agent and publisher for her book Whole Music (Soul Food for the Mind Body Spirit). She founded and hosts the blog
The Whole Music Experience and has contributed to World Music Central since 2003.