Global Soul (Putumayo, 2002)
Euro Lounge (Putumayo, 2002)
Putumayo's Global Soul features an array of interesting personalities including France's controversial R & B artist, Doc Gyneco (or Doctor Gynecologist). The name should be a deterrent in itself. Of course, the humor derives from the fact that an artist that brags about his sexual prowess still lives with his mother. Other acts of interests include, South Korean soul artists, Tasha and Bobby Kim, Brazilian funkers Fernanda Abreu and Aricia Mess, England's multi-media artists 1 Giant Leap. The artists on the CD hail from Germany, France, Brazil, South Korea, Senegal, Tanzania, Cameroon, Italy, the US and Quebecois-Canada. Both the emerging talent and seasoned veterans (Aricia Mess, Neneh Cherry, Kaissa and Fernanda Abreu) were inspired by neo-soul musicians from the US who
in turn found their inspiration by listening to old Stevie Wonder, Curtis Mayfield, Isaac Hayes and James Brown recordings. Similar to Kate Bush, China (France) signed her first album deal in her mid teens. Singing in both French and English, China offers her funky number, Time.
The multi-media duo Jamie Catto and Duncan Bridgeman (1 Giant Leap) produce a multi-cultural piece that marries Native American chants (Ulali) with rap (Speech) and soulful singing (Neneh Cherry) on Braided Hair. Joy Denalane combines her mother's Germanic language with her father's musical heritage (the South African marimba) on her song about spiritual awakening, It's About Time.
This compilation features soul music with a foreign accent, meaningful lyrics and soulful sensibility as many of the artists find inspiration from their familial roots. Although the recordings are a bit slick, unique instrumentation such as the marimba on the track, It's About Time give the songs a cutting edge above the usual fare you hear coming over commercial airwaves. If anything, Global Soul offers a unique perspective and a window to what's happening elsewhere in the world. Globalization after all, might have flaws, but the exchange of musical culture isn't one of them.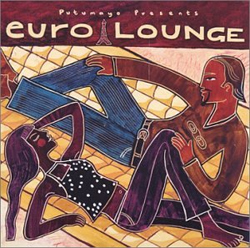 Euro Lounge features a collection of "chill-out classics" from Europe
while occasionally combining DJ talent from the Americas. As you would expect, the songs on this compilation fall into the cocktail lounge or light electronica categories. You will find bossa nova, salsa and shimmering Euro pop, perfect for a dinner party or get a casual get together. The DJs hail from France, Italy, Spain, the Netherlands, Brazil, Chile, USA, Germany, Turkey, Belgium and
Macedonia.
S-Tone Inc. (Italy) track Limbe fuses groovy 60's bass with sitar twang. Mambotur (Germany/Chile), combines fuzzy bass with salsa rhythms on Salpica. Gabin (Italy) with Sweet Sadness and Gare Du Norde (Belgium) How Was it For You? recall elements of bossa nova. Bossa Notra (Italy/Brazil) offers, Jackie, a shimmering pop song while the Spanish DJ, Mastretta's El Ultimo Habitante Del Planeta, featuring sexy female vocals, would easily be at home on an Almodovar film soundtrack. Arling and Cameron from the Netherlands contribute Voulez-vous?, a mostly instrumental laced with sexual innuendoes.
(Originally published on Cranky Crow World Music).