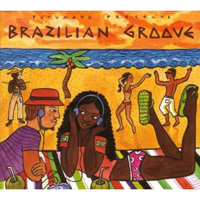 Various Artists – Brazilian Groove (Putumayo PUT 216-2, 2003)
Various Artists – The Rough Guide to Brazilian Electronica (World Music
Network RGNET 1123 CD, 2003)
Like many global music listeners, I embrace the electronica/techno scene with caution. When the electronica treatment is applied to sounds of Africa, the Arabic world, Latin America, Native America or what have you, all too often the intent seems to be contemporizing the music at all costs, regardless of whether or not any reasonable degree of roots tradition is maintained. Thankfully, more and more releases in the ethno/techno category (if that is indeed what they're calling it currently) are finding a more equitable balance. It can depend, of course, on how well the electronica approach fits the music
at hand, and in that respect the music of Brazil has fared well.
Two of the more productive labels around– World Music Network and Putumayo–have modern Brazilian compilations out now, and both pack an appealing punch.
Putumayo's Brazilian Groove takes a more laid-back path, abounding with acoustic textures getting tastefully techno-tweaked and generally minimal toying with vocals. thus notables like Zuco 103, Carlinhos Brown and Aleh have their nuances carried along rather than swept away by the electronica currents.
The familiar classic "Mas Que Nada" gets a respectful updating, a good illustration of the way this collection does the job with restraint and emphasis on the rhythmic and melodic shades that make Brazilian music great no matter how it's buttered.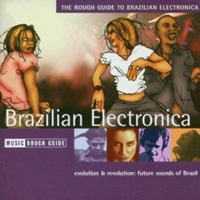 Rough Guide to Brazilian ElectronicaRough Guide to Brazilian Electronica gets off to an awkward start with Suba's rather stiff "Sereia" (the late Suba was a great talent but this particular track isn't one of his best).
Things improve from there, as the techno touches are splashed about with abandon but local color is given room to breathe. Ramiro Musotto's "Caminho" benefits from the murky emphasis on surdo drums, Cila Do Coco scores with the echoey "Juntando Coco," Suba is redeemed via a lively "Samba Do Gringo Paulista" and the chillier side of things shows up in tracks by Superagua, Rica Amabis and Macumbalada. There are moments when things get more clunky than funky, but most of the 68 minutes here range from worthwhile to cracklingly good.
Author:
Tom Orr
Tom Orr is a California-based writer whose talent and mental stability are of an equally questionable nature. His hobbies include ignoring trends, striking dramatic poses in front of his ever-tolerant wife and watching helplessly as his kids surpass him in all desirable traits.