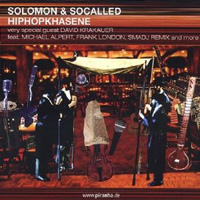 Solomon and Socalled
Hiphopkhasene (Piranha CDPIR1789, 2003)
If it had been made strictly to milk laughs, this disc could have been a disaster rather than a delight. The khasene (traditional Jewish wedding ceremony) is an event deeply rooted in Judaic history, a reverent but celebratory rite of passage rife for spoofing while worthy of respect.
Klezmer violinist Sophie Solomon and DJ/producer/beat constructor Socalled take the components of the khasene and make them into something of a musical narrative that in effect marries klezmer to hip-hop in a union that is equal parts mazeltov and meshugge.
You'll both grin and groove to this sometimes dizzying sound pastiche of traditional music melded with patchwork beats, spoken inserts that are both silly and serious and some genuinely great instrumental work courtesy of the likes of trumpeter Frank London and DuOud's Smadj.
Socalled's weaving of beats in and around the sassy splash of real instruments shows a deftness and restraint that many of his ilk lack, keeping his craft in service of the music and connecting the whole album seamlessy with sonic bursts that are steadfastly unpredictable.
Solomon's playing stays in the background much of the time, thus shining all the more when it's front and center and providing a recurring reality check of the fact that there are two names above the title.
Mostly instrumental in scope, there's also some strictly tongue-in-cheek rapping sure to meet the approval of listeners like me who've always regarded rap as something of a joke anyway. Ethno-techno fans, lovers of a good danceable mix and just about anyone claiming to have a sense of humor will find this well worth shelling out a few shekels.
Buy Hiphopkhasene
Author:
Tom Orr
Tom Orr is a California-based writer whose talent and mental stability are of an equally questionable nature. His hobbies include ignoring trends, striking dramatic poses in front of his ever-tolerant wife and watching helplessly as his kids surpass him in all desirable traits.