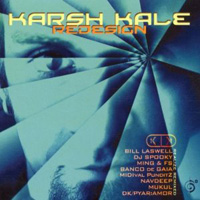 Karsh Kale – Redesign
(Six Degrees, 2002)
MIDIval PunditZ – MIDIval PunditZ (Six Degrees, 2002)
dj Cheb i Sabbah – Krishna Lila (Six Degrees, 2002)
Redesign
is a party unto itself with a variety of international DJ or mixing guests including Bill Laswell, DJ Spooky, Ming with FS, Banco De Gaia, MIDIval PunditZ, Navdeep, Mukul and DK/Pyar Amor (the only femme DJ on the disc). The New York City underground dance scene mixes with Euro beats and the New Delhi techno craze in which the guests revamp Kale's Realized.
Delicate bansuri flutes float in and out of heavy drum beats while the exotic sarangi melts into thumping bass lines. Then haunting vocals compliments of Sarah Sarhandi (Home), Ustad Sultan Khan (Deepest Blue & Light up the Love), Vidya Shah (One Step Beyond & Anja), Fulgani Shah (various) and Shahid Siddiqui float over the top.
Fulgani Shah's classically trained voice rides over tabla slapping beats (Kale) and bansuri ( Steve Gorn and Ajay Prassana) on Banco de Gaia's remix of Distance. Bill Laswell's remix of Empty Hands is nothing short of phantasmagoria. And Light Up The Love could be called a hi-fi Hindu Stereolab. I've not heard the original recording that has been remixed here so dubbers and dancers will have to form their own expert opinions regarding Redesign.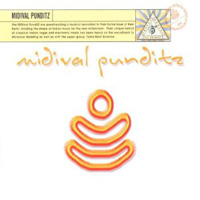 New Delhi electronica sensation MIDIval PunditZ has been dubbed, "A true Indian music outfit for the future," by Skim Magazine out of Switzerland. For those individuals fortunate enough to have heard MP's track, Fabric gracing the soundtrack of Mira Nair's Monsoon Wedding or caught Gaurav Raina and Tapan Raj in concert with Tabla Beat Science (August 2001) will understand the excitement generated by this duo.
Although Raj and Raina knew each other as children, they didn't bring their collective talents together until 1994 when Gaurev moonlighted as a DJ and Tapan worked as an engineer at a recording studio. The duo pooled funds together from their relations in the same manner that young filmmakers beg and borrow then they formed their own studio. However, it wasn't until 1997 when Gaurev and Tapan rediscovered ragas and decided to blend the past with the future thus creating a fusion of Indian classical music with modern technology.
MP's latest CD features India's top classical vocalists, Vidya Shah and Smiti with flute performances by Rajendra Prassanna and Shailendra skimming the top of heavy bass riffs and drum beats. The end result ranges from slow ambient trance music, to goth to absolutely exotic. The tracks are sexy, provocative and sacred.
Extasis features a santur (a hammered dulcimer that originated in Persia) that proves its power by blending with contemporary instruments. Far From Home showcases the vocal talents of Vidya Shah (an emerging talent). Bhangra Fever offers a lilting and delicate melody enhanced by a pounding surf of dohl drums and chanting. We are told that "Delhi swings." And of course, there is much evidence to support that statement. New Delhi swings with dot com and electronica. The youth are celebrating their parents' traditions in the dance clubs across New Dehli where the past and the future melt into one. Mira Nair once said that Indians will take any import and make it their own. Globalization doesn't pose a threat when a country can transform McDonalds or Hollywood into an authentic product of India. And MIDIval PunditZ has married Euro beats with ragas and created something totally Indian, at the same time foreign and familiar.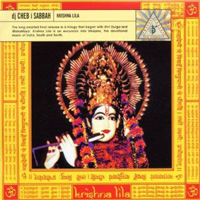 Algerian born and veteran disc spinner dj Cheb i Sabbah's release Krishna Lila (based on Lord Krishna's loves with 16,801 wives) completes a trilogy that began with Sabbah's Shri Durga (1999) and followed by MahaMaya (2000).
Krishna Lila took two years to complete in which Sabbah traveled around India recording Indian virtuoso musicians in New Delhi, Bombay and Madras. The collection of devotional songs on this disc, with the exception with the drum & bass track, Raja Vedalu land in the classical music territory. The album
consists of bhajans sung in praise of Krishna, but the songs are both erotic and sacred (think tantric sex).
Krishna Lila has been divided into South and North while featuring two types of songs, dhun (chants) from the south and the more sophisticated singing style called thumri practiced in North India. Although the Algerian Sabbah had no ties to Indian classical music, he carefully researched his subject then recorded musicians in Madras, Bombay, New Delhi, New York and San Francisco while threading five sung languages into an exquisite tapestry that carries with it a timeless quality.
Sabbah also combined the talents of fellow dj-musicians Karsh Kale and Bill Laswell along with a who's who of Indian classical music including Madras vocalist Baby Sreeram who sings on the three opening tracks. Other musicians that appear on the CD include A.K. Devi's on saraswati vina, vocalist Radhika Rajiv and flautist Deepak Ram, just to name a handful.
Krishna Lila (The blue god) successfully blends electronica (used sparingly) and classical ragas while never straying from music's sacredness. Listeners are introduced to the Carnatic form from South India and Hindustani form of North India. And for listeners unfamiliar with Indian classical music will also be introduced to some new sounds compliments of the santur, bansuri flute, sarod and vina (a sitar like instrument) used in their traditional sense as opposed to enhancing Asian trance music. However, having said that, Krishna Lila compliments Karsh Kale's Redesign and MIDIval PunditZ's release.
(Originally appeared on Cranky Crow World Music).