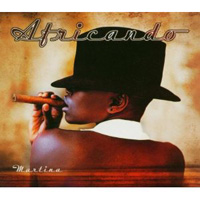 Africando
Martina (Stern's STCD 1096, 2003)
It's been 10 years since Africando began the full-force re-Africanization of salsa. Of course, the musical give and take between Africa and Latin America had been going on for generations, but even the most Latinized African popular music was getting too slick and synthesized and a return to roots was clearly in order.
The first Africando album, Trovador, set the global music scene ablaze with its combination of veteran African vocalists and seasoned Big Apple Latin musicians. They've kept it hot since then, exploring on subsequent releases salsa's connections to Cuba, Senegal, Haiti, Puerto Rico and beyond.
Part of the fun of Africando is finding out who's shown up to sing on their albums. From the start their vocal lineup has consisted of permanent, recurring and just-passing-through singers. On their last studio disc alone, 2000's Mandali, they were billed as the Africando All Stars and lived up to the expanded moniker by including the likes of Salif Keita and Koffi Olomide.
Their new release, Martina, soars as brilliantly as anything they've done before. The unifying theme of the disc is the edification of African Women in all their strength, perseverance, grace and beauty that goes well beyond physical. Africando regulars Sekouba Bambino, Medoune Diallo, Ronnie Baro, Gnonnas Pedro, Eugene Shoubou and Amadou Balake are back, and guest vocalists this time include Senegalese troubador Ismael Lo, soukous smoothies Nyboma and Kester Emenya and Puerto Rico's Joe King.
The complete seduction of your ears, soul, feet and hips begins without delay on track 1. "Lindas Africanas" ("African Beauty") features the vocal ensemble singing with understated passion of exactly what the title suggests, sweetened by perfectly placed violin and timbale solos.
There's no letup from there as two versions of the love song "Abibou" plead their cases in Diula and Spanish, "Azo Nkplon" throws in an electrified violin that wah-wahs like a cat in heat, Ismael Lo offers a touching paean to a friend who died young, guest Adama Seka stingingly scolds unfaithfulness on "Dioumte" and the horn-drenched salsa grooves swing flawlessly for the duration.
Malian arranger Boncana Maiga and Senegalese producer Ibrahima Sylla guide the whole thing with the same expertise and intuition they've wielded since the inception of Africando, showing how something that started out as a great idea can carry on with that greatness undiminished. A marvelous disc, but here's a question to ponder: why, given the theme of the album, were there no female singers on board? A minor quibble, since the finished work is so good, but worth thinking about.
Buy Martina
Author:
Tom Orr
Tom Orr is a California-based writer whose talent and mental stability are of an equally questionable nature. His hobbies include ignoring trends, striking dramatic poses in front of his ever-tolerant wife and watching helplessly as his kids surpass him in all desirable traits.