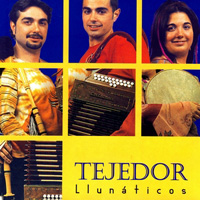 Tejedor
Llunaticos (Aris Música/Resistencia, 2003)
Although half of my family can claim Spanish ancestry, I have only known about Spain's Celtic tradition for the past two years (Galicia & Asturias). However, until very recently I was unaware of Asturias' Celtic music scene which includes pop star Hevia (inventor of the electronic bagpipes), Llan de Cubel, Felpeyu, Asturian Mining Company (led by an American expatriate) and Tejedor. Tejedor,
comprised of two brothers, José Manuel and Javier Tejedor and their younger sister, Eva have one eye on tradition and the other one on contemporary arrangements.
Most of the songs that appear on Llunàticos (lunatics) were composed by Javier and José, but with a Celtic folk-roots flavor. The trio employs an array of Celtic musicians and a vast collection of traditional instruments that are augmented by electric instruments at times. The opener, a tongue and cheek instrumental, Hell Bagpipes, brings in a host of musicians including, Igor Medio (bouzouki, guitar), Horacio Garcia (bass guitar), Fernando Arias (drums), Ramón Morán and César Ibarretxe (keyboards), Merce Santos (hurdy-gurdy), Xabier Zeberio (nickelharpa) and Ibón Koterón (alboka). José contributes bagpipes and Javier adds accordion and percussion. The result is anything, but hellish and a fan of Celtic music could describe it as heavenly.
Three ballads Married Woman, Swallow and Maruxina feature Eva on vocals. She also contributes pandereta and tambourine on Maruxina, a song about a maiden with dubious sexuality. Married Woman and Swallow flow in a lyrical fashion and are embellished with acoustic guitar, flute and other Celtic instruments. Maruxina begins with a cappella vocals set over drums & percussion and eventually guitar, bouzouki, bagpipes and accordion join into the traditional song's quick tempo. The song also provides some unusual music twists that match the duplicitous nature of the song's titular character.
While I do not have time to comment on all 12 tracks that appear on the recording, most of the songs fall into the instrumental category. The titular track marries Celtic music with electronic dance while, the slow instrumental lament, In the Memory features misty-eyed bagpipes along with violin, double bass and keyboards. The melancholy instrumental Etna blends flute and low whistles with a string quartet. And Floreo of Remis (written by José Remis Ovalle), allows José Manuel Tejedor to showoff his bagpipe virtuosity as he sails through quick tempo arpeggios and leaves listeners begging for more.< Llunàticos showcases a remarkable trio with lots of youth appeal and passion for roots-music. I wonder what this group will do next and I look forward to future recordings.
Buy Llunaticos