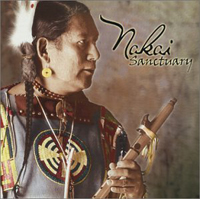 R. Carlos Nakai
Sanctuary (Canyon Records, 2003)
There are many among us who can say that Navajo-Ute flautist R. Carlos Nakai is the first Native American musician they have heard. I discovered Nakai while listening to Rough Guides Native America. Nakai had teamed up with the Black Lodge Singers and their joint effort brought chills to my spine. Since that time, I have sampled a few of Nakai's 20 or so recordings and each time, I listen to his lofty flute, I truly feel at peace with the world.
Nakai has influenced countless Native American and non-native musicians with his diverse and vast repertoire which can be found on Canyon Records and SilverWave Records. Nakai who recorded his first flute album in 1983, has performed with jazz artists, symphonies and other Native American performers.
He has collaborated with The Black Lodge Singers guitarist/luthier William Eaton, composer James DeMars, AmoChip Dabney, Mary Redhouse and others while employing diverse musical styles. Nakai has recorded flute melodies of various tribes including, Omaha, Zuni, Lakota, Kiowa, Cheyenne and others. He has performed in concert halls as well as, in outdoor settings.
Sanctuary's 12 tracks were recorded on Native American land in the Rocky Mountains among glacial streams and alpine refuge. Nakai performs his original compositions on a bass cedar flute and a standard flute. He captures the tranquility of his sacred environment with every flutter or throaty note played on his wooden flute.
Nakai emits the confidence of a veteran musician and he allows his instrument to capture the spirit of his sacred environment. His listeners might be sitting in traffic listening to his whistful notes and yet, they will be transported to a rugged mountain setting. However, it is best to listen to Nakai when relaxing or meditating at home or taking a break from work.
And for those listeners who find themselves enraptured by Nakai's flute, can delve into his prolific catalogue. With so many classical, jazz and traditional recordings to choose from, listeners can enjoy this diverse and universal performer's repertoire.
Buy Sanctuary
Compliments of Cranky Crow World Music