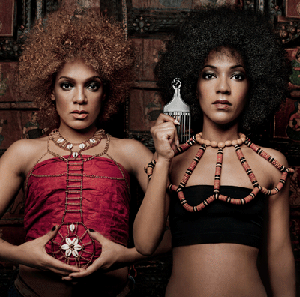 Celia and Helene Faussart are genuine multicultural amalgams. Daughters of a Cameroonian mother and a French father, they were raised both in France and in the central African country of Chad.
With so many diverse cultural influences in their lives, the sisters credit their own mixed musical style to a number of factors. "We're Afro-peans ", says Celia, "so our music comes from everywhere. From our father we heard classical music and French singers like Edith Piaf and Charles Aznavour. Our mother introduced us to Celia Cruz, Harry Belafonte and traditional African music. Our aunties exposed us to Aretha Franklin and Otis Redding, and through our cousins we heard Herbie Hancock, Public Enemy, the beginnings of hip-hop, and AC/DC!
"Originally performing as an a cappella duo, Les Nubians began their own careers in local French clubs. "We were presenting Black music as a tree, going from the roots to the leaves", says Faussart. "We were
doing traditional African music, then gospel, jazz covers, soul, reggae, calypso, hip-hop, a bit of everything."  
Les Nubians were spotted early by Virgin Records, who released the sisters' debut album Princesses Nubiennes in '98. A sophisticated, yet funky blend of soulful, jazzy grooves combined with a streetwise attitude, their hip Sade-meets-Zap Mama sound found an audience not only in France, but also somewhat surprisingly in America, where it was picked up by the college radio stations and sold over 400,000 copies.  
"We were surprised", says Celia. "At first we thought it was just the French-speaking people in the United States who were buying it. But then we were told that the stations there kept getting requests
for the single 'Makeda'. It was comforting response for us, an affirmation of human nature. Music is its own language, and it showed that people are sometimes more open than you think they are." 
So with such a successful debut, why has it taken the Faussart sisters five years to record One Step Forward, their just-released second album? "Oh, we've been busy" explains Celia. "It took us a while to promote and perform the first album around the world. In between albums we also had kids and organised our own music company. We produced a spoken word poetry project as well, which hasn't been released yet. Also we wanted to go back to real life, because living in hotel rooms doesn't give you the true flavour of life. We needed to go back to our own lives and get inspiration from real people and places."
One Step Foward features contributions from reggae group Morgan Heritage, African veterans Manu Dibango, Ray Lema and Richard Bona, with Brooklyn MC Talib Kweli and UK hip-hop producer I G Culture. There are also considerably more tracks sung in English on the new album. 
"It came really naturally for us to use more English this time because with our tours to America and the recording work that we've done in London, we've gotten used to speaking a lot more English in the past few years", says Faussart. "And we tried to mix generations too, bringing in some of the older players, along with some of the best new poet/rappers who are pushing away some of the musical barriers. That's what we were searching to do on this album." 
Sharing a United States tour earlier this year with their Afropean vocal heroines Zap Mama, one might have expected some nationalistic Americans to take these French-speaking women to task over recent US/French disagreements on the Iraqi war. Les Nubians' new song 'La Guerre (The War)'
could also have been seen as fanning the controversial flames. But Faussart indicates that that wasn't the case. 
"We didn't really experience any negativity. We were touring there when the war started, but the people who came to our shows weren't in that state of mind. But the subject was definitely in the air and we had to talk about it. We're just saying in the song that we're the creators of our own reality. If we as humans want to create war, then we're very good at doing that, but if we want instead to create a peaceful world, it's also possible to give it a try for a change. My sister and I experienced war ourselves when we were growing up in Chad, and we don't wish that on anybody. We were just trying to
make people think about it and that can't be a bad thing." 
[This article originally appeared in "Rhythms" magazine (Australia)]