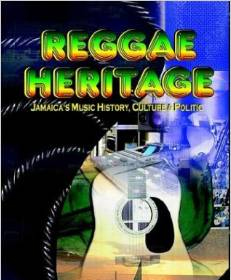 Kingston, Jamaica – First time author and former disc jockey of New York station WNWK, Lou Gooden has put reggae's past on paper with the release of his book, Reggae Heritage: Jamaica's Music Culture and Politics. Gooden chose self-publisher First Books.com to offer the book electronically through the Internet with printed copies available in weeks.
Hailed as one of the first books about reggae 'written by an insider,' Gooden, an avid proponent of early reggae and having recently returned to Jamaica, traces the roots of reggae back to the 1940s and the heavy influence of American jazz, R&B and the later the 1960's ska movement that made their mark on the music. Gooden admits some areas of the book need further tightening due to his rush to get the 370-page book completed, but admirers suggest that Gooden has included some of the aspects of reggae that other authors have so far ignored.
Known as a long time supporter of reggae and disc jockey at the famous Negril Beach Village during the 1970s, Gooden has finally finished the 10-year book project with the hopes of turning the book into another addition.
Lou Gooden is a native Jamaican, who attended Crescent College located in Kingston, Jamaica. He has worked as a DJ in Jamaica and the United States.
Author:
TJ Nelson
TJ Nelson is a regular CD reviewer and editor at World Music Central. She is also a fiction writer. Check out her latest book, Chasing Athena's Shadow.
Set in Pineboro, North Carolina, Chasing Athena's Shadow follows the adventures of Grace, an adult literacy teacher, as she seeks to solve a long forgotten family mystery. Her charmingly dysfunctional family is of little help in her quest. Along with her best friends, an attractive Mexican teacher and an amiable gay chef, Grace must find the one fading memory that holds the key to why Grace's great-grandmother, Athena, shot her husband on the courthouse steps in 1931.
Traversing the line between the Old South and New South, Grace will have to dig into the past to uncover Athena's true crime.