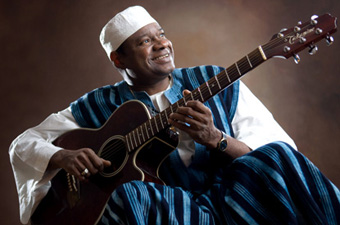 The British Columbia Guide for World Music, Part 1
Welcome to the Canada's West Coast, better known as British Columbia. British Columbia is Canada's youngest province and it has been described as sporty, radical, iconoclastic with a laid back attitude. This is also a province where Canadians cherish their leisure time, participating in various sporting activities or hanging out at music or arts festivals. The province has also been marketed to tourists as "super natural," and if you take one look at the province's beaches, forests and majestic mountains you can witness this super natural beauty. It's no wonder that artists and musicians from around the world dig in their heels and make British Columbia their home.
This music guide will introduce you to some of the folk roots musical acts that have adopted this province as their home and I will focus on the lower mainland, Vancouver Island and the southern Gulf Islands.I will not bore you with statistics or demographics, but I will remind you that the city of Vancouver and surrounding areas sports a multicultural environment, heavy on Asian music of all kinds. You will also find world fusion, Celtic, African, Latin and First Nation music in British Columbia.
The 26th annual Vancouver Folk Music Festival featured the Bill Hilly Band (Victoria), Daniel Lapp and Lappelectro (Victoria), Lotus Ensemble (Vancouver/Quebec), Celso Machado (Vancouver), Harry Manx (Salt Spring Island), Sara Marreiros (Victoria), Safa (Vancouver), Jabulani (Vancouver) and the Vancouver World Music Collective.
Other groups residing in British Columbia are the Puentes Brothers, Asza, Jou Tou, Tzimmes, Silk Road Music, Orchid Ensemble, Mei Han & Randy Raine Reusch, Fana Soro & Masabo, Khac Chi Ensemble, Elyra Campbell, Sandy Scofield and Alpha Yaya Diallo.
Please note that this is not a comprehensive guide of world music in British Columbia. Due to touring schedules and summer holidays, many musical groups and their managers have not responded to my requests for information. And I would like to publish this guide before summer's end so those viewers will be able to seek out these musical acts at festivals across Canada or upon visiting British
Columbia. However, I would like to thank Diana Imbert and Ellie O'Day for their kind assistance. Perhaps in the future, this guide will be expanded, for now, think of it as the tip of the iceberg.
I list the groups under country of origins and end with a section called "the best of all worlds" that will include world fusion groups.
Africa:
Fana Soro & Masabo (Vancouver) hail from the Ivory Coast and features dancers, storytellers and drummers. The group has released one CD, Solognougo. Fana Soro & Masabo. E-mail: masabocc@shaw.ca.
Alpha Yaya Diallo (Vancouver) originates from Guinea and has become a proud fixture in Vancouver's world music community. The African group has released several recordings with the most recently release in 2001, The Journey. To find out more information about this exciting group visit Alpha Yaya Diallo.
Asian (Korea, Philippines, Japan, China, India & Vietnam):
Mei Han & Randy Raine-Reusch (Vancouver) literally translate to East meets West since this married couple take the Chinese zheng into new territory. When master zheng performer Mei Han (also see Orchid Ensemble, Asza and Vancouver World Music Collective) teams up with experimental musician Randy Raine Reusch
anything can happen leading to innovative compositions found on their debut CD, Distant Wind. Mei is both a virtuoso zheng performer and zheng scholar bringing 30 years of expertise to the ancient Chinese instrument. Raine-Reusch has produced numerous records and owns a collection of 600 instruments from around the world. This intriguing couple makes their home in East Vancouver when they
are not schlepping their wares around the globe.
Khac Chi Ensemble (Vancouver) Although this traditional Vietnamese ensemble is a trio, I can only find biographical information on the two founding members. Award-winning composer and dan bau (1-string zither) virtuoso Ho Khac Chi and award-winning ban dan performer (first woman to win a prize on this instrument), Ngoc Bic makes up 2/3 of the ensemble. Bich also performs on the ko ni (a two-string stick fiddle). The couple moved to Vancouver after appearing at the Vancouver Folk Music Festival in the early 1990's. Since that time they have released several recordings on the Jericho Beach Music label, the most recent CD, Spirit of Vietnam, was released in 1999. Khac Chi Ensemble is a member of the
Vancouver World Music Collective.
Lotus Ensemble (Vancouver/Quebec) was born out of a collaboratory experience and features Liu Fang on pipa and Oliver Schoer on violin along with Ziya Tabassian on tombak and Pham Duc Thanh on at two-string fiddle called dan nhi, dan bau (monochord) and dan tranh (16 string zither). Lotus Ensemble marries Chinese, Persian Vietnamese and Euro-Canadian music. Sadly, I have not heard this music
so I can comment no further.
Harry Manx (Indian/Blues) might be described as a cross between a Mississippi blues man and an Indian sage. Equally adept on the 6-string banjo, lap slide guitar and mohan veena, this Salt Spring musical resident has recorded four CDs including: Dog, My Cat, Wise and Otherwise, Jubilee and Road Ragas. But catch him in a live performance so that he can cast his spell over you.
Orchid Ensemble (Vancouver) will also hold you captive with their delicate and soulful compositions which includes traditional Chinese music, Chinese contemporary compositions, as well as, music from other cultures. Their debut CD, Heartland (produced by Randy Raine-Reusch) features ensemble leader Lan Tung
on the Chinese two-string violin, (Erhu), Mei Han on the Chinese zither (zheng) and Canadian percussionist Jonathan Bernard performing on a marimba and an array of Chinese and Western percussion instruments. The end result proves spectacular and might just bring tears of joy to your eyes. The ensemble is a member of the Vancouver World Music Collective.
Silk Road Music (Vancouver) Although this group is Chinese in origin and a member of the one million Chinese-Canadians, Silk Road marries classical Chinese music with jazz, Brazilian, Celtic and Quebecois fare. And the group performs on a host of instruments spanning 6 continents according to a description featured in Rough Guides Canada CD. Silk Road Music released their CD Endless on Jericho Beach Music and is a member of the Vancouver World Music Collective.
Celtic and fiddle music:
Bill Hilly Band, www.thebillhillyband.com, (Victoria) I must admit that this folky quartet grew on me. My first impression of this group's Appalachian fare (twang with a capitol T) recalled the "dueling banjos" scene in the film Deliverance, which is not one of my favorite films. However, upon listening to their CD, All Day Every Day (Borealis Records), I acquired a good sense of the musicians' technique and versatility. It isn't every day that I hear a musical group bounce from an Italian tarantella to a swampy fiddle tune straight out of the Bayou of America's sleepy south. Bill Hilly Band might be called Kitchen Party music of the West Coast.
Elyra Campbell (Vancouver) performs (on Celtic harp) and sings ancient Irish airs, laments, "mouth music" and lullabies sung in English and Scots Gaelic. She performs a cappella or with an array of jazz and world music performers, mostly covering traditional arrangements. Her music can be heard on her CD, Girl in a Tree. She is a member of the Vancouver World Music Collective.
www.elyracampbell.com
Lappelectro (Victoria) led by super duper fiddling talent Daniel Lapp. The group includes Daniel on fiddle, of course, Rick May (bass), Jody Baker (percussion) and Justin Hayms (guitar). Daniel's latest recording ReUnion features guest musicians that represent the who's who of folk music, including, Kathryn Tickell (bagpipes), Tony McManus and Simon Thoumire and you can learn more about Daniel
at www.daniellapp.com
First Nation:
Blackstone (British Columbia), are Cree singers from Saskatchewan with several CDs listed on the US label, Canyon Records. However, the Canadian distributor Festival Distribution has listed Blackstone under First Nation artists residing in British Columbia. For more information visit Canyon Records at
www.canyonrecords.com
Nengayni Drummers (Central BC) is an all woman group of hand drummers.
Art Napoleon (Cree) is a traditional singer that resides in British Columbia. He released his CD, Outta the Woods a few years ago and one of his tracks was featured on James Keelaghan's radio production, A Sense of Place in 2000 and was broadcast on the CKUA radio network. One of Art Napoleon's tracks appeared in the radio series (Episode #8).
Sandy Scofield (Metis heritage of Saulteaux and Cree descent) This First Nation musical performer has a drop-dead powerful voice, often taking on social issues that are featured in her genre-blending repertoire. Her 2003 release, Ketwam (Kokum Records) marries traditional chants with folk fiddle and country music. The lineup of guest performers also proves impressive featuring Daniel Lapp (fiddle), Stephen Nikleva (guitar), the Nitsiwakun singers (Lisa Sazama, Shakti Hayes & Sandy) and
Winston Wuttunee (chants). Sandy's 2001 release, Riel's Road (Arpeggio) blends jazz, folk, blues and rock territories with the lyrics as biting as ever. Although she has performed traditional Indian music, she for all intent and purposes is a crossover artist. Sandy resides in Vancouver.
www.sandyscofield.com
Sy Sterritt (Gitsan) I couldn't find any information on this performer.
Klezmer or Gypsy:
Tzimmes (Vancouver) This klezmer group blends other cultures with traditional klezmer music and is a member of the World Music Collective. Tzimmes released KlezMyriad in 1998 and you can learn more about this musical act at www.tzimmes.net
Latin Music:
Celso Machado (Vancouver) Originally from Brazil, Celso fell in love with Vancouver after performing in the city in 1986. He moved to Vancouver in 1992 and has been experimenting with new instruments and musical styles ever since. I've not actually heard Celso's music, but if you visit www.celsomachado.com you can learn more about his repertoire and available recordings.
Sara Marreiros (Victoria) Now that Mariza has brought Portuguese fados to public awareness, Portuguese-Canadian fado singer Sara Marreiros will be able to perform without the lengthy exposition about fados. Sara has a background in jazz as well and performs jazz, Brazilian music along with fados. You can hear her vocal talents in action on Djole's 2001 release, Salt Water and Sara's solo CD, Alma Da Terra (found on Syntonic Arts).
The Puentes Brothers (Victoria) I saw the Puentes Brothers perform at WOMAD USA in 2001. They dished out Cuban Son and ballads while whetting the appetite of a large dancing crowd. They play live quite often in British Columbia, but if you can't catch the group live, than check out their CD, Morumba Cubano released on Alma Records, 2001.
Persian Music:
Safa (Vancouver) In the Farsi language, Safa translates to inner purity. The group Safa draws inspiration from Sufi poetry and Persian classical music. Yet, this group comprised of master musician (tar and setar) Amir Koushkani, Puerto Rican drummer Sal Ferreras and Francois Houle (clarinet) improvise and bend the formula. Safa released a CD titled Alight.

Best of All Worlds:
Asza (Vancouver) This eclectic ensemble fuses various musical traditions and has toured all over Asia and North America. Asza is a member of the World Music Collective. www.asza.com
Jabulani (Vancouver) I have read that this youth group has inspired adults with their musicianship. Jabulani is a member of the Vancouver World Music Collective. Here's looking at the future of world music in Vancouver.www.jabulani.net also check out the
group's first CD, Take it Easy.
Jou Tou (Burnaby) The members of this trio represent Quebecois, Chinese and South American music. Jou Tou released a self-title CD and the group is a member of the Vancouver World Music Collective. No web address listed.
Vancouver World Music Collective One might call this collective a utopian dream made reality or Vancouver's crown jewel. Basically, the members of this collective hail from every culture imaginable. Filmmakers Georges Payestre and Jean Patenaude heard about the collective and were so impressed that they decided to make a documentary (to be released in 2004). For those fans of world music who love mix and matching instruments from various cultures, this is your dream come true. Members of the collective include Jou Tou, Khac Chi, Masabo Culture Company, Mei Han & Randy Raine-Reusch, Orchid Ensemble, Jabulani, Silk Road and Tzimmes. And the project's mastermind is Diana Imbert. For more information see the links below.
Other artists:
Alma de Espana (flamenco)
Adel Awad (drums), Lady Bug Productions
Axe Capoeira (Brazilian), Barrao Productions
Dal-Dil-Vog, DDV Enterprises Records
Links:
Vancouver Folk Music Festival,
www.thefestival.bc.ca
Rough Guides Canada www.worldmusic.net
Part 2 will feature short reviews of CDs by British Columbia world music acts.
In the meantime, check out the artists listed in Part 1.