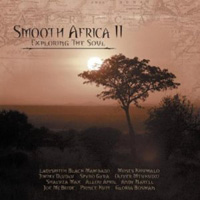 Various Artists
Smooth Africa II: Exploring the Soul (Heads Up HUCD 3077, 2003)
Yeah, I know. An album with "smooth" in the title fills your head with unspeakably horrible thoughts of lite jazz blandness or adult contemporary syrup that's sure to induce nausea. But this is Africa we're talking about, not middle America. Lo and behold, this is actually a very good selection of African jazz and pop artists ideal for fending off the very same mediocrity that "smooth" is often a code word for in the first place. Don't get me(or the title) wrong- this is smooth stuff, but in the best sense of the word.
Concentrating on the southern part of the continent, the disc features big names like Ladysmith Black Mambazo (uncharacteristically singing with instrumental backing) and Oliver Mtukudzi pitching in with the kind of strong material that's earned them international status. But just as good are the less immediately recognizable names (Allou April, Prince Kupi, Gloria Bosman) and even a couple of American artists (Andy Narell, Spyro Gyra) who've been embraced on the African scene.
It's a well-balanced collection, positioning the Afro-jazz-pop work of Joe McBride and Jimmy Dludu alongside Mtukudzi's swaying melancholy and a breezy electronic stomper by Shaluza Max.
Narell's steel pan track reinforces the strong ties between Africa and the Caribbean, and though Spyro Gyra's closing "Cape Town Love" does seem to be riding the coattails a bit, it's a pleasant tune that keeps the mellow but unmistakably alive mood. A solid compilation well worth owning, Smooth Africa II overcomes its misleading title hands down. I missed out on the first Smooth Africa that this is apparently a sequel to, but if it's anything like this it must be worthwhile too.
Buy Smooth Africa II
Author:
Tom Orr
Tom Orr is a California-based writer whose talent and mental stability are of an equally questionable nature. His hobbies include ignoring trends, striking dramatic poses in front of his ever-tolerant wife and watching helplessly as his kids surpass him in all desirable traits.