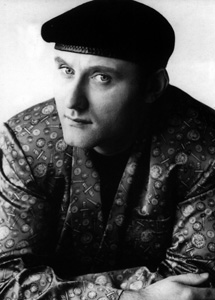 Adventurous audio explorer Jah Wobble keeps creating fresh sonic landscapes, with a little help from his friends. He discusses his latest projects with Seth Jordan…
For an originally wild East End lad, first propelled at listeners as the somewhat menacing, bass-wielding counterpoint to John Lydon (aka Johnny Rotten) in the post-Sex Pistols band Public Image Ltd. (P.I.L), these days producer/bassist Jah Wobble, at 44, projects a much more reflective and settled demeanour.
Born John Wardle in 1958, his Jah Wobble moniker was famously bestowed on him by a drunken Sid Vicious, who slurringly introduced him as such. Given Wardle's love of dub reggae the name seemed appropriate and stuck. Leaving P.I.L. in 1980, Wobble began to experiment, working on the classic '83 album Snakecharmer, alongside such art rockers Holger Czukay and Jaki Leibezeit from the German group Can, and U2 guitarist The Edge.
Opting out of the music industry for a time, Wobble disappeared completely for several years, working anonymously as a driver on the London Underground, before returning to the scene with a new band, The Invaders Of The Heart. Their '91 album Rising Above Bedlam spawned the surprise hit 'Visions Of You', which featured vocalist Sinead O'Connor. Wobble also created World music fusions, working with Najma, Natacha Atlas and Baaba Maal on '94's Take Me To God.
Fronted by his own trademark rumbling basslines and studio production skills, Wobble's collaborations have since included work with such diverse artists as Brian Eno, Bjork, Pharoah Sanders, Massive Attack, Primal Scream, Afro-Celt Sound System, and recent remixes for Tori Amos and Holly Valance.
Founding his own independent label 30 Hertz in '97, Wobble has continued to release a prolific output of creative projects. His most recent work includes Molam Dub (2000) with Laotian group Molam Lao; RadioAxiom: A Dub Transmission (2001) with like-minded bassist/producer Bill Laswell; Shout At The Devil (2002) with ex-Transglobal duo Temple Of Sound; Solaris: Live In Concert (2002) with Laswell, Harold Budd, Graham Haynes and Jaki Leibezeit; and Fly (2003). He will shortly be releasing Five Beat with his current group Deep Space, as well as a soundtrack for the French film Fureur (Fury).
Jah Wobble lives with his wife Zi Lan, a traditional Chinese musician, in the northern English town of Stockport.
Jah, in your teenage years you enjoyed listening to late night radio oscillations, tuning into an array of far-off music and noise. Is that where you first learned the art of mixing diverse sounds?
I guess so. I was drawn to the sound of short-wave oscillations and I still love those low-end sounds. I continue to generate them myself in the studio with mutating systems that my engineer has invented to gain control over those frequencies. The radio ones are great 'cause they feel like they're coming from the sun. Very cosmic and infinite. As stations fade in and out it's a natural collage, and you never know where it's going to drift to. I used it to fall asleep to.
Is that also where you first heard more exotic forms of music, such as Arabic singing?
That's right. I think I first heard Radio Cairo. It was the Egyptian singer Oum Khalsoum, although I didn't know her at the time. I can still remember all this phased clapping as the signal bounced around through the stratosphere, just like in the studio when you mirror a signal, which I absolutely adore. It's like the music's coming from heaven.
These days you always seem to have so many projects going at once, from esoteric jazz experiments to pop remixes for the likes of Holly Valance. A pretty wide musical palette isn't it?
Yeah I'm always working, it's always flowing, and keeping it diverse keeps it interesting. At the moment I'm buzzing on a mix I did the other night that I can't get out of my head, with the trumpeter Harry Beckett. It's a very slow New Orleans kind of thing.
Harry was involved with your latest album 'Fly', where he occasionally sounds very much like Miles Davis with that muted far-away sound. Miles' music is still very important to you isn't it?
Yeah he's been quite an influence. I was 18 or 19 when I first heard Miles' during his electric period, all those multi-layered textures. He was like an architect. I actually tried to bring some of that attitude to P.I.L., building up the sound. Miles was fantastic.
The 'Fly' album sounds quite different to many of your past projects. How did it come about?
I was just trying to have some fun. I was actually working on the soundtrack for the French film Fureur, and I was having a few barneys with the director. They kept changing their minds as to what they wanted. They were very much into me doing the music as we went, which actually can be quite exciting, rather than afterwards. But they kept changing even how the film would go. So after I'd written a number of things, they wanted it different. Since I'd already had the big studio booked, I just said, "Okay you go make your mind up about what you want, and meanwhile I'll just have some fun here for myself. So some of the tracks on Fly came from that, and when I got home I added to it and properly mixed it. Even though it started off in a rather ad hoc fashion, it's actually quite a disciplined album, with a strong uniformity of sound, a specific approach. It's pretty electronic really with a lot of juicy synths in there, with phasing and mutations. It's quite a hip kind of sound I think. Apparently it's appealing to some of the club people in London, the ones with ironic haircuts and glasses.
In setting up your own 30 Hertz label in '97, were you just fed up with the corporate attitude to music as a product that could easily be identified into marketable genres?
I realised a long time ago that that approach was insane and illogical and wasteful. I came to that depressing conclusion more than 17 years ago. When I came back into the scene in the late 80's I just saw the big companies as venture capitalists, people that you hustled money from to make records. It was a dubious business and I could see that it wasn't the way to go if you wanted to make really interesting music. In order to have some power and momentum I felt I needed to eventually form my own company. A lot of people said "You're making a big mistake, you won't have enough money to keep it happening", but I just kept at it and so far it's going okay. We've actually been in profit for the last few years, and my music is still readily available for people who want it. Some people tell me that I put out too much music and it just makes me laugh. I always think of the analogy between musicians and painters. Would we ever think of saying, "Oh I quite like Monet's Water Lilies, but I think he did too much stuff"? The development is just as important as the results. Should he have set fire to the rest of them and just kept the best ones?
In the end it's about an artist's total body of work?
Yes, but I'm not doing what I do for posterity, I'm doing it 'cause it's fun, and I'll let other people either make sense of it when I'm dead or ignore it. The important thing is to get it out there now. This stupid, outmoded system where you think tactically, you plan your career like a fox, carefully planning each album, trying to get the image just right, trying to get a Levi's ad for maximum marketing exposure. I'd rather face life and music head-on like a lion, brave and taking some chances, not like a careful tactical fox.
Speaking of brave music, the recent live Solaris album is a pretty full-on set isn't it?
That was a dream proposition. I was approached by a promoter here who said, "Put together your dream band", and I just said right, that would be Bill Laswell and Harold Budd and Jaki, and then we got Graham Haynes in too. And it actually happened, we toured, recorded it, and it was intense.
Your collaborations with Laswell over the years have always been very inventive. Your approaches to both bass-playing and production seem totally compatible.
Well of all the people I've gotten to work with, the easiest and most inspiring has been Bill. He just really gets it, and with just a few words. He's the Quiet American in a heroic mode. We've got pretty similar musical tastes, there's the bass link, and we share a similar sense of humour too. He's a joy to work with and you come away inspired for your next project. The same's true with Holger Czukay and Jaki, they're very deep. I'm not prone to hyperbole, but with these sorts of people you're in genius areas. They're teachers, and I don't use that term lightly. They reinforce good habits and good practice in making music.
As a Dub fan and connoisseur, what do you see as the next trend there, now that we've heard it used most recently within drum n' bass and jungle contexts?
It always shifting. I heard some interesting things recently, almost hinting at Nigerian juju rhythmic patterns. Lots of people know how to use those heavy dub tones now, and the continuing development of software technology makes it horribly convenient to make music using computers. That's been good news for people with taste and skill, but worse for those who haven't. It makes for a lot of interchangeable music.
But the dub thing will continue to mutate. Sometimes it will lean towards a more naturalistic jazz thing, with people actually playing their instruments, but with a good solid sonic treatment. But because of the availability of technology we'll also probably hear more digital dub too, which in some hands can be rather one-dimensional, or it can be a wonderful freedom if it's based on real skill and imagination.
For more information: www.30hertzrecords.com
[This article originally appeared in "Rhythms" magazine (Australia)]
Buy the albums:
In North America: Chinese Dub, a href="http://www.amazon.com/gp/product/B0039Z38GG?ie=UTF8&tag=musidelmund-20&linkCode=xm2&camp=1789&creativeASIN=B0039Z38GG">Japanese Dub, Welcome to My World, Chinese Dub, , I Could Have Been a Contender, Heart & Soul, Umbra Sumus, The Early Years, Rising Above Bedlam, Shout at the Devil, Passage to Hades, Elevator Music, Vol. 1A, Molam Dub, Car Ad Music, Jah Wobble and The English Roots Band, Fly, Alpha One Three, Jah Wobble's Solaris – Live in Concert, Beach Fervour Spare, Deep Space, The Inspiration of William Blake, Requiem, 30 Hertz Collection, The Light Programme