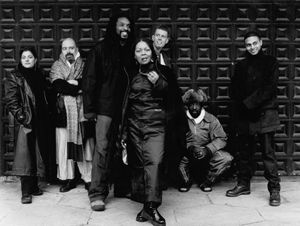 Whitby, North Yorkshire,England – Trans-Global Underground, Ensemble Kaboul, Martin Simpson & 40 other acts will be performing at Musicport, October 24th-26th, 2003. The festival is held annually in Whitby (North Yorkshire, England).
Musicport is a celebration of music and dance from different cultures around the globe. Now in it's 4th year it is becoming a major international showcase for the top acts in the field of World Music & dance as well as proving a wonderfully magical & enjoyable event for all the family. Set against the backdrop of Whitby the festival pays homage to the town's seafaring connections with the wider world.
Acts that have appeared in previous years include Misty in Roots, Osibisa, Labi Siffre, Kanda Bongo Man, Los De Abajo, Vera Bila & Waterson Carthy. Musicport is a not for profit community business with funding from Arts Council Yorkshire, Yorkshire Forward, Esmee Fairbairn Foundation, PRS Foundation & Scarborough Borough Council
The Festival mainly happens in one venue – Whitby Pavilion Complex-with a capacity of 1000 in the main hall 500 in the theatre and 300 in the exhibition hall. Catering is provided both in the Pavilion café and by ethnic food vans just outside the main entrance.
The concerts take place Friday 24th – Sunday 26th October. The festival starts at 6.30pm on Friday and goes on until early hours Sat am. It starts again around 10.30am Saturday finishing 2am Sunday morning. Starts again 11am Sunday morning and finally finishes 11pm Sunday. The organizers try not to overlap acts on the two main stages so people don't have to miss anything on these stages. There will be an added extra this year as the clocks go back on the Sunday morning .
Who?
In total there will be over 40 acts on the main stages including:
Trans-Global Underground as headline act for this year's festival.
Ustad Mahwash & Ensemble Kaboul (Afghanistan) winners of BBC Radio3 2003 World Music Award Best Asia Act.The band that kept the music of Afghanistan alive
through the dark years.
Kékélé (Congo), Congolese veteran rumba band often described as Buena Vista Social Club of Africa.
The Bisserov Sisters(Bulgaria), celebrating 25 years of thrilling audiences world wide.
Ali Slimani Band (Algeria), Wonderful Rai band fronted by ex Invaders of The Heart lead singer.
Go.Lem System (Argentina/Spain) Manu Chao's sometimes backing band on exclusive trip from Barcelona to UK for Musicport.
The Dhol Foundation with Johnny Kalsi (Punjab/UK),Afro Celt System drummer & fantastic band who were sensational at Musicport 2001.
Mighty Zulu Nation (South Africa) , Dance and song from great South African troupe.
Shiva Nova (India/UK), jazz meets classical meets ambient.
Charanga Del Norte (Cuba/UK) wonderful salsa band and Musicport veterans.
Lion Train (Jamaica/UK), music in the spirit of Bob Marley and great live show.
Ben Melo Band (Senegal),On their first trip to Uk. The band who often support
Youssou N'Dour in Senegal
Téa & Mirella (Bosnia),wild & haunting gypsy music
Julie Murphy Dylan Fowler & Danny Thompson (Wales),One of the finest singers in UK joined by great guitarist & legendary double bass player.
Martin Simpson & Spencer Bohren (USA/UK), Martin winner of Radio 2 awards 2002 for best album & best instrumentalist with Spencer great gospel singer /
guitarist from New Orleans.
Talisman (Russia), First UK appearance for incredible gypsy trio.
Modeste Hugues (Madagascar) highly rated singer songwriter.
Davide Sanna (Sardinia). "The Mediterranean Bob Dylan".
Robert Maseko & Congobeat- Musicport favourite with new line-up and great new
songs.
Eduardo Niebla (Spain) stunning flamenco guitarist.
Rajan Spolia (India) India guitar and tabla
Bombay Baja – Bollywood brass ensemble
Nick Burman – one of the great didg players
The Old Rope String Band- Musical &Magical mayhem
Tuup the world renowned storyteller will perform the official opening.
Late night DJ sets and venue decor from locally based artists Cloudbase
There will be an adult workshop programme running throughout the weekend and
numerous stalls selling musical instruments, crafts etc as well as information
stalls on issues of global interest.
An adult weekend ticket (which is non-transferable) entitles you to free access
to all events within the festival.
Full weekend tickets are £45 until 30th July when they go up to £59
(£47)
unwaged) Tickets for children over 10 are half the adult price. Children under
10 are free
Family tickets, day tickets and sessional tickets are also available (Contact festival office for detail)
Although under 10s have free entry to the main Festival there is a
separate sessional charge for the children's festival events (around £2 for 3
hour session). There will be a range of artists working specifically on the
children's festival stage performing and running workshops. The children's
stage will be organised and supervised by InterActive a local charity who run
holiday playschemes in the Whitby area .
There is a free access venue at the Resolution Hotel, Skinner Street with a separate program of mainly acoustic artists and featuring some main
stage artists as well.
Contact numbers Jim McLaughlin @ Musicport Office 44(0)1947 603475
Fax 01947 603509
[Photo caption: TransGlobal Underground]
Author:
World Music Central News Department
World music news from the editors at World Music Central